"The X from Outer Space" VS "large behemoth Gappa"
Screenings, performance has ended.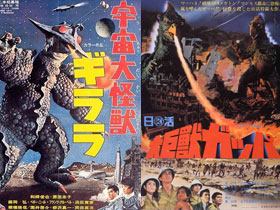 Through a time of 45 years, directly implemented in Shibuya showdown! Which it is to win!?
1954, Toho "Godzilla". 1965, Daiei "Gamera". Too strong, large monster of two too berserk is stir up a whirlwind in Japan. Furthermore, in 1966, start a TV broadcast of the "Ultra Q" series by Tsuburaya. Japan became the unprecedented "monster boom". Two companies of Shochiku and Nikkatsu was reluctant to huge production costs in accordance with the special effects movie also determine the competing in the monster movie raised heavy hips booming economy of this unprecedented. The world pumped's monster long-awaited in 1967, it was "Gappa" of Nikkatsu and "Girara" Shochiku! Then of it invested the production cost of 150 million yen Shochiku "The X from Outer Space" is the only special effects monster movie Shochiku, the same "large behemoth Gappa" of Nikkatsu also Nikkatsu only monster movie .... 2012 This year, just 45 anniversary of the birth of this unfortunate two large monster. The film industry is surging wave of digitization. I would like you to enjoy 2 clash of large monster with screenings of the film at all means the year of this milestone theater.

"The X from Outer Space"
1967 / Shochiku / Cinemascope / 88 minutes / premiere 1967 March 25
Director: Nihonmatsu YoshimiMizuho / Screenplay: Nihonmatsu YoshimiMizuho, ​​Motoji Emi, Moriyoshi Ishida / Music: Taku Izumi
Theme Song: "Rock of Girara"
Cast: Wasaki Toshiya, Peggy Neal, Franz Grubel, Itoko Harada, Hiroshi Fujioka other
story
Japan spacecraft of space development stations have an accident on the way to Mars from the moon. Although the crew is safely rescued, mysterious luminous body was deposited around the reactor, which is the main power of the spacecraft. Luminous body was brought back as a document, it becomes a giant monster Girara in the development stations. To absorb all the energy on the planet, Girara is going to continue to huge ....

"Large behemoth Gappa"
1967 / Nikkatsu / Cinemascope / 84 minutes / premiere 1967 April 22
Director: Harumichi Noguchi / Screenplay: Iwao Yamazaki, Ryuzo Nakanishi / Music: Omori MoriTaro
Theme: "large behemoth Gappa"
Cast: Tamio Kawachi, Yoko Yamamoto, Yuji Odaka, Wada Koji, Tatsuya Fuji, Katsura small cans, Masanori Machida other
story
Expedition, which came to the obelisk island of the South Seas is, to find the children of the monster that Gappa in the land. For the study, but bring back the Gappa in Japan, parents Gappa who were deprived of their children, landed in Japan follows the children of telepathy. Although defense forces to intercept immediately, Gappa is go drove the city to shambles vomiting hot wire ....
Special screenings - Film Festival
Rates: 2 book stand 1,500 yen uniform / 19:00 times only 1,000 yen ※ Service Day Not applicable