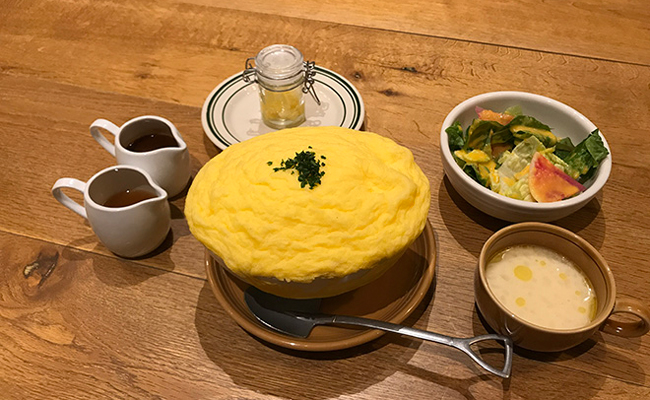 A fluffy exquisite souffle sticking to "make it on the spot" / Shibuya / YELLOW MARKS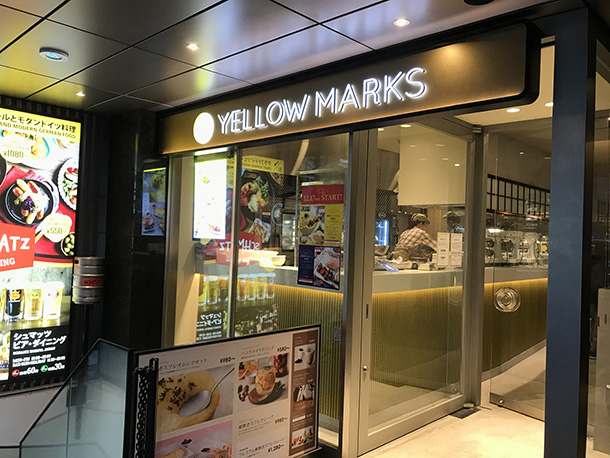 "YELLOW MARKS" is on the left side of the road going down to the Tower Records at the intersection of Shibuya PARCO, which boasts a renewal opening. Opened in 2019, Shanoir, which operates cafes and bellowses, specializes in kiln-baked souffle omelets and souffle crepes that focus on eggs!
"From the company name of Shanoir, we were considering a dish that was particular to France, and in view of marketability, we came to a dish called fluffy souffle that could convey surprise and excitement to customers." Public Relations Mr. Takatani)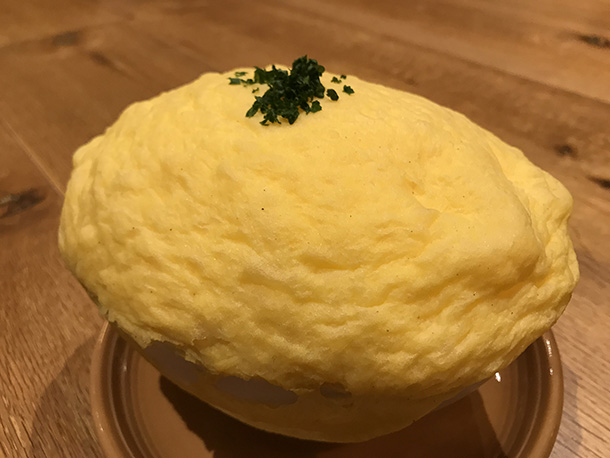 The first is from the main kiln-baked souffle omelet. It is carried in a fluffy state. There are four menus: bacon omelet (980 yen), soup chicken omelet (980 yen), seasonal vegetable omelet (1080 yen), and shrimp omelet (1180 yen). In addition, a seasonal menu is also available, all provided as a set with salads, soups and homemade pickles.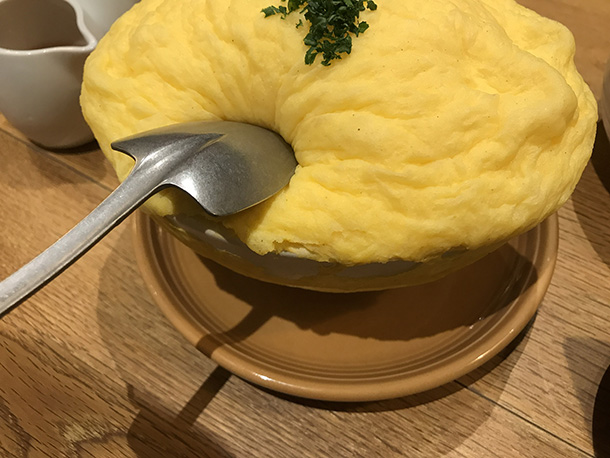 When you insert the spoon, it looks like this. Because it is steamed, the outside is quite elastic.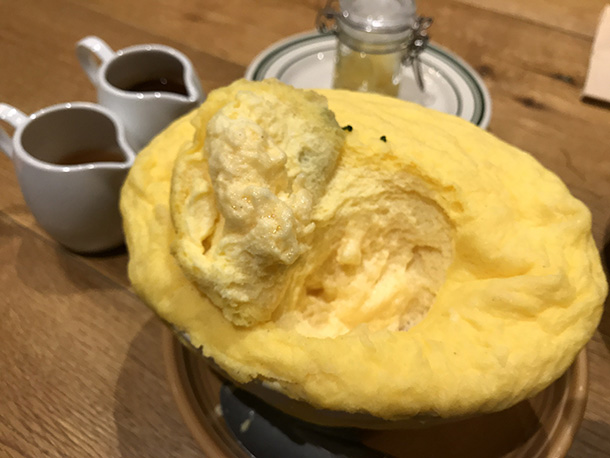 When you open the inside, there is plenty of fluffy souffle and the egg goes from fluffy to toro as you go to the center. When you put it in your mouth, the soup of purupuru, the western-style egg tofu of torotoro, and the saltiness of bacon become punches, and the spoons will advance one after another.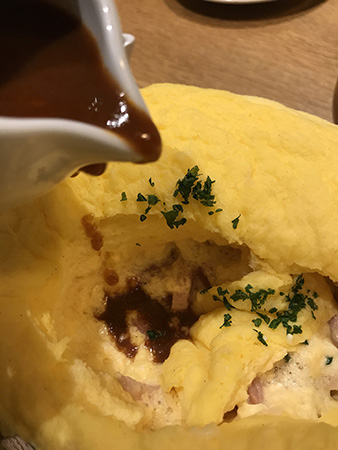 Souffle omelet comes with a common soup stock and another kind of sauce that matches the ingredients. "Bacon omelet" has demiglace sauce, "herb chicken omelet" has cream sauce, "seasonal vegetable omelet" has tomato sauce, and "prawn omelet" has bisque sauce.
"In the beginning, I hope you will enjoy the collaboration of eggs and ingredients and enjoy the change in taste by adding sauce."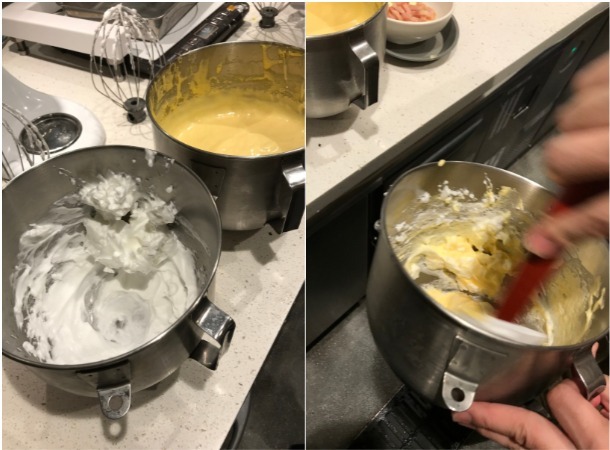 He showed me how to make such a souffle omelet.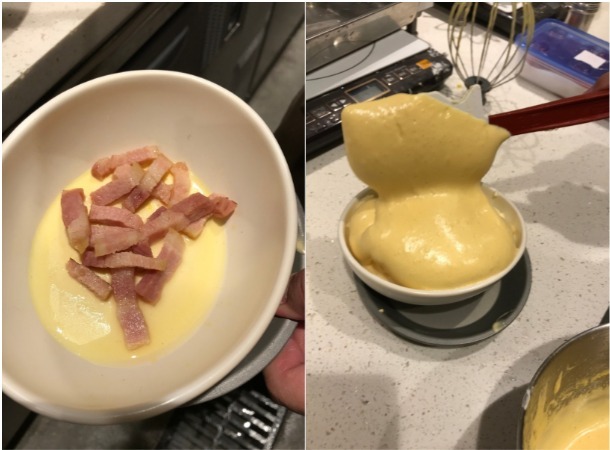 The secret of deliciousness lies in the "three-layer structure."
At the bottom of the bowl, there is an egg and bouillon, a Western-style egg tofu called "Royal" with a crisp texture finished with fresh cream. Ingredients are in the second layer, and on the top is a carefully selected egg "Egroyal®️Soufflé with plenty of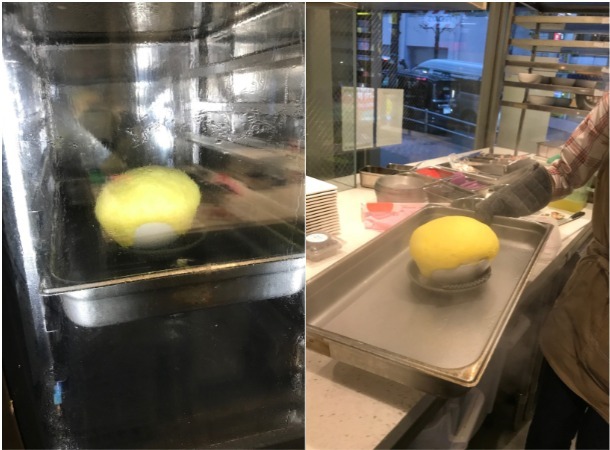 When it is steamed in a kiln, a fluffy souffle is created in no time.
"We make souffle after we receive an order, and we make it all on the spot. We make it with a lot of time and effort, but we want you to enjoy the excitement of the freshness and offer it in this style I am doing it. "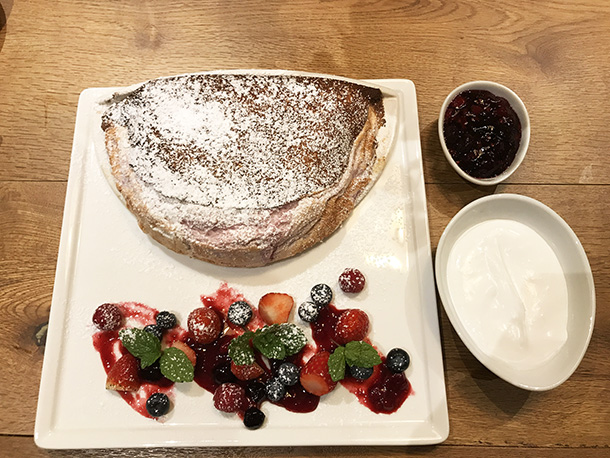 Souffle crepe wrapped in crepe with another main menu, meringue and homemade custard. The menu is "Kamaki-baked souffle crepe" with "Madagascar vanilla scented crepe" (980 yen), "Strawberry-flavored custard soup crepe" (980 yen) and luxuriously arranged fresh fruit. "Mixberry Premium Sfrecrepe" (1580 yen) and "Apple Cinnamon Premium Sfrecrepe-Calvados Flavor" (1280 yen).
Mix the meringue and custard (depending on the menu) gently after the order is placed.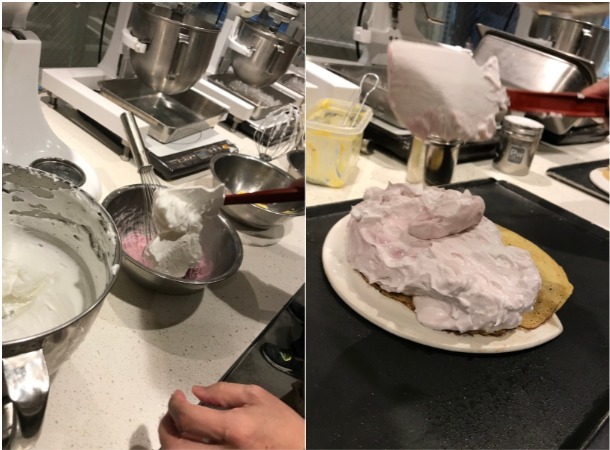 Put it on a special mold and wrap it in crepe. Since the freshness of the whipped meringue is important, several automatic whisks are fully operational in the kitchen. And if the staff talked to each other, the souffle was baked with the movement calculated in seconds.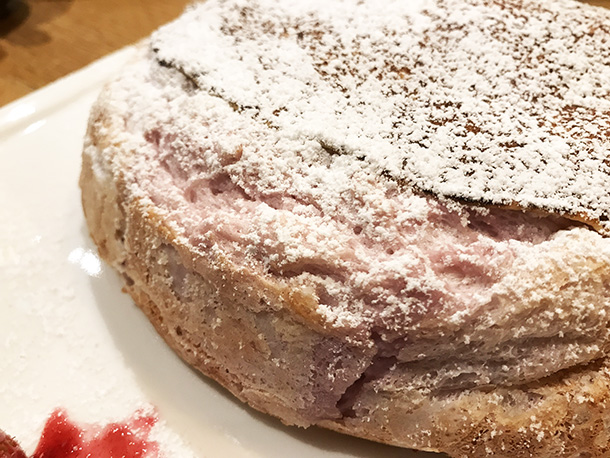 It is a crisp dough with rich flavor and wraps soft souffle using meringue and custard. Powdered sugar applied from above will again inspire your appetite.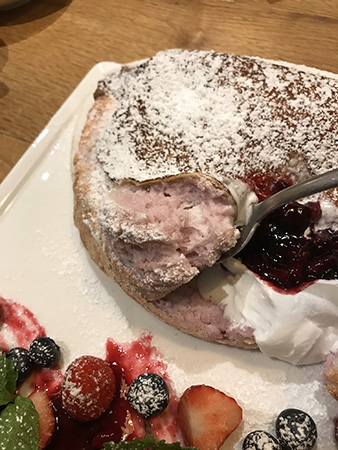 Sprinkle generously with fresh cream and bring it to your mouth with a spoon along with berry sauce, and you're happy! ! If you make a premium, fresh fruit is added, so you will feel luxurious. And this volume! It is good to share it as a dessert, it is lighter than it looks and you can adjust the sweetness yourself, so it seems that you can eat it alone.
Screpe crepes served from 14:00. You can set a drink for 300 yen (14:00 to 17:00 on weekdays).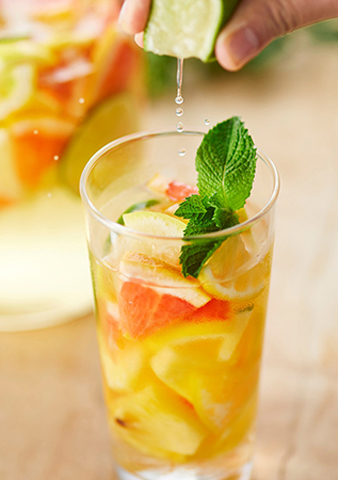 Also, "Handmade drinks" (580 yen each) with fruit tightly packed in a glass, and "Flavor Cold Brew Coffee" (580 yen each), which is made by mixing fruit and cheese whip on top of cold brew coffee and mixing them together There are plenty of drinks that you can only taste here, such as "rich egg soft ice cream" and "old-fashioned kiln-baked pudding" that use the specially made Egg Royal E-R. Isn't it perfect for an elegant afternoon?
YELLOW MARKS Shibuya Jinnan
〇Address: 1-20-15 Jinnan, Shibuya-ku, Tokyo
〇電話:03-6416-5955
〇Business hours: 11: 00-23: 00 (LO22: 30)
* Please note that the start time varies depending on the menu.
〇 Closed: None
〇 Official:https://chatnoir-company.com/yellowmarks/

Rie Ohba
I love to eat deliciously and deliciously. If I hear the information of attractive shops, I will fly around Tokyo and go around. My longing is going abroad to eat delicious food.