Why is Shibuya Attractive to Numerous IT Start-up Companies?
During the bubble era, Shibuya was called 'Bit Valley', and inundated with IT startup companies. But with the collapse of Internet bubble in 2000s and the opening of Roppongi Hills in 2003, 'successful IT startup companies' gradually moved into Roppongi Hills. Since then, the image of 'IT=Shibuya' began to disappear. Although the leading movement of Japanese IT startup companies was changed from Shibuya to Roppongi and Akihabara, it is continued to grow for Shibuya's 'IT culture': After 2000, there exist 2,317 IT companies in Tokyo, for which Shibuya-ku (588 companies, the most in all special wards), Minato-ku (501 companies), Chiyoda-ku (274 companies), Shinjuku-ku (212 companies), Chuo-ku (181 companies).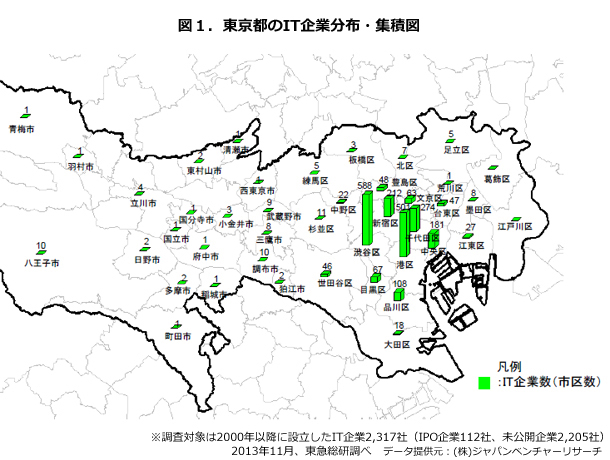 Let us see the situations in Tokyo streets. As of 2000, there are 643 IT companies in Tokyo 9 major business region (Shibuya, Harajuku/Omotesando, Roppongi, Shinjuku, Ikebukuro, Marunouchi, Ginza/Yurakucho, Shimbashi/Shiodome, and Shinagawa). Amongst 9 regions, companies in Shibuya makes up over 50% (306 companies), that is, way outnumbers Shinjuku (78 companies), Ginza/Yurakucho (60 companies), Roppongi (57 companies) and so on. According to that survey, though it is not as booming as during Internet bubble, Shibuya is still attractive to numerous IT start-up companies.
Why is Shibuya attractive to numerous IT start-up companies? To answer that question, let us review Bit Valley movement in late 1990s.
The Boom and Collapse of Bit Valley Movement
The term 'Bit Valley' is similar named for 'Silicon Valley'. Silicon Valley locates in San Francisco and attracts one-third of all of the venture capital investment in the United States. On the other hand, Bit Valley is a neologism, which is based on the basic data unit 'bit', and was created by Nishikawa Kiyo as president of NETAGE in Shoto office. Nishikawa's proposal 'On the Influence of Bit Valley' aimed at inviting IT companies, increasing IT venture capital investment by sharing information and competition, and helping each other. Inspired by American dot-com boom, many IT startup companies moved to Shibuya (Bitter Valley Movement). Bit Valley Movement filled with numerous entrepreneurs. Amidst these entrepreneurs, there are some who play a major role in the current development of IT industry, such as GMO (inter Q)'s Kumagai Masatoshi, Cyberagent's Fujita Susumu, DeNA's Namba Tomoko, and Livedoor (On the EDGE)'s Horie Takafum. During the booming Bit Valley Movement, QFRONT was born in December 1999, which is the 21 century business facilities delivering digital information. Also, QFRONT is considered to be the symbol of the booming Bit Valley Movement.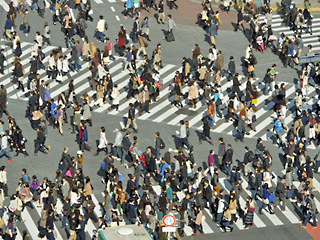 Young IT entrepreneurs and Challengers to be Welcomed in Shibuya
Why is that IT movement which attracted venture capital home to Shibuya? In other words, why is not that IT movement which attracted venture capital home to Shinjuku or Marunouchi? Let us examine this issue more closely. Since the 1964 Summer Olympics hosted in Tokyo, starting from large record making companies and NHK, Shibuya is home to a number of creative companies such as motion pictures, publishing, commercial industries. Emphasizing perceptibility, Shibuya provides, therefore, the contributing factor of the growth of development of IT companies. Beginning from fashion and music industry, new culture is more easily to be cultivated in Shibuya compared to other places. What is more, locating in the largest city in Japan, Shibuya is a major site of independent activities and welcome new challenges. In contrast with Marunouchi inundating suits and ties, T-shirt and jeans are allowable to wear in terms of Shibuya's free atmosphere, which is important in attracting young IT entrepreneurs.
Meanwhile, it importantly noted, with the development of Shibuya, the policies that support promising IT startup companies. Thanks to these policies, Shibuya Mark City was born in April 2000; the growing Cyber Agent moved its headquarter to Shibuya; Netyear Group Corporation and GMO immigrated their offices to Cerulean Tower which is completed in 2001. From working in certain old random building, to in metropolitan offices that are close to the Shibuya Station, it is not controversial that Shibuya has been improved. The insightfulness of the supporting policies is one of the features of Shibuya.
With the collapse of Internet bubble as of 2001, the Bit Valley Movement stuck; since the opening of Roppongi Hills, some IT companies, such as Yahoo, Rakuren, and Livedoor removed their offices from Shibuya. After the Internet bubble crash in Japan, the image of 'IT=Shibuya' began to disappear. But as the data earlier showed, even the Internet bubble collapsed, IT culture has been incessantly grown.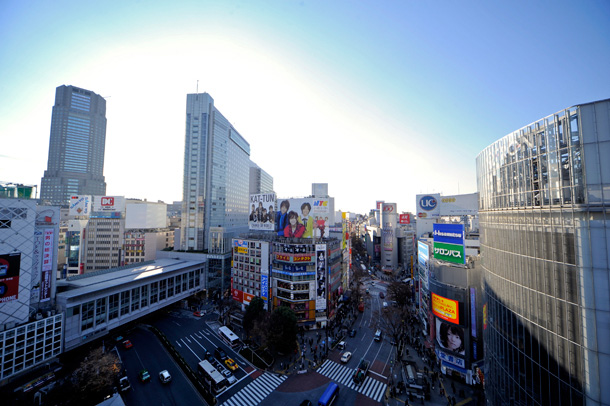 With the arrival of the IT era, QFRONT as current Shibuya landmark (right side, opening in December 1999), Shibuya Mark City (center, opening in April 2000), Cerulean Tower (left side, opening in May 2001) was born.
The New Trend for Individual Era and Co-working Space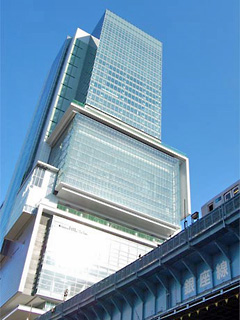 In 2010s, 10 years past since Internet bubble, IT culture began to develop in Shibuya. With the opening of Shibuya First Tower in East Shibuya, companies such as Mixi, Pia, and Groupon Japan moved in Shibuya First Tower. Furthermore, Shibuya Hikarie opened in Shibuya Tokyu Bunka Kaikan in 2012, DeNA (Mobae), NHK (Livedoor, naver, line), and supports for startups program 'KDDI ∞ Labo' started to operate. Not only the opening for big companies, but for startups around Dogenzaka such as Loftwork (1 Chome Dogenzaka), operating information delivery nanapi (1 Chome Dogenzaka), online study service schoo (1 Chome Dogenzaka), and social tourism service trippiece (2 Chome Dogenzaka), Bit Valley appears to regain its strength.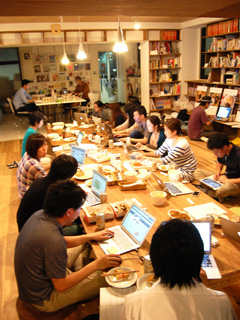 State of the event, which was held in the "co-ba shibuya"
Currently, The co-working space, which is embraces Shibuya ethos has increased in Shibuya. At present, there exists around 30 co-working space such as co-ba shibuya (3 Chome Shibuya) and PoRTAL Shibuya (1 Chome Shibuya). IT engineers and creators meet in this co-working space, and they cooperate in their specialized area, such as website design, coding, and application production, to complete one project. By ingeniously taking advantage of network, large project is able to be carried out by engineers who belong to different firms,. 'Individual era' is therefore to be communicated. With the growing of co-working space, Japan's large cloud social service provider such as Lancers (3 Chome Shibuya) and Cloudworks (1 Chome Shibuya) moved into Shibuya. The growing co-working space shows the potentiality of our new working style.
Shibuya has a free ethos that cultivates culture and supports new business. Let us witness its growth in the future.

06 May 04, 2014

November 29, 2013

May 24, 2013

03 May 13, 2013