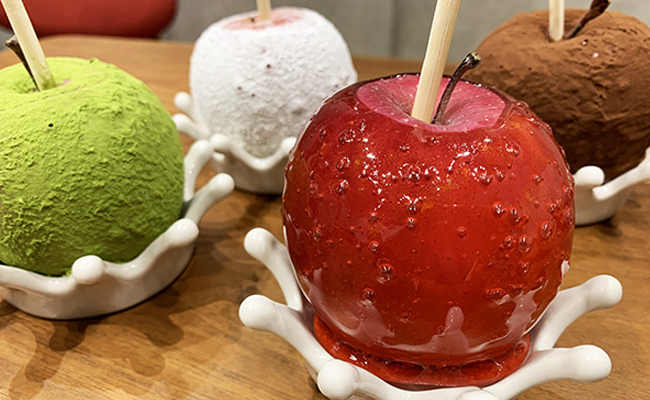 A new sensation of apple candy that allows you to reconfirm the taste of apples
Candy apple, Daikanyama & Harajuku
Following the main store in Daikanyama, which opened in January 2020, the Harajuku store, which opened in March, is also known as an apple candy specialty store, "Candy Apple."
When it comes to apple candy, I remember the one I ate at the stall. However, this apple candy has a completely different taste. The instant you put plain apple candy in your mouth, you will feel a crisp sound and a pleasant texture. After that, the refreshing acidity and sweetness overflowing from juicy apples. It's a dish you can confidently say that everyone will say, "I ate this apple candy for the first time."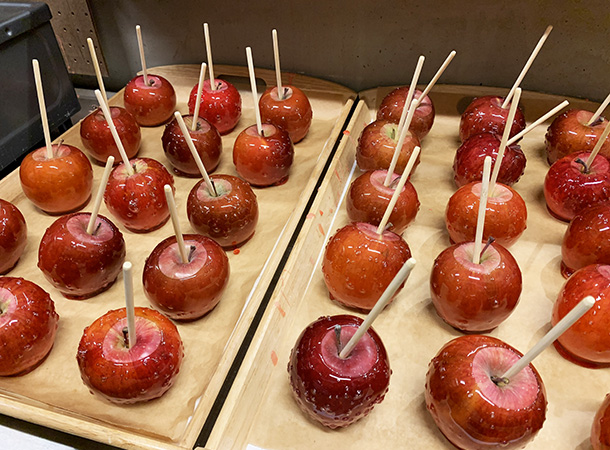 The owner, Mr. Nishino, told us about the commitment to apples and the story of trial and error since its opening.
"The first thing I did for an apple candy shop using delicious apples was to find an apple that is suitable for apple candy. We ordered various varieties from Aomori to Shinshu. Even if it is delicious as an apple, I was worried because there are some things that do not taste good with candy.''
Mr. Nishino finally chose "Fuji" from Aomori after searching for delicious apple candy from various angles, the size that can be eaten deliciously, the balance with candy, and various angles.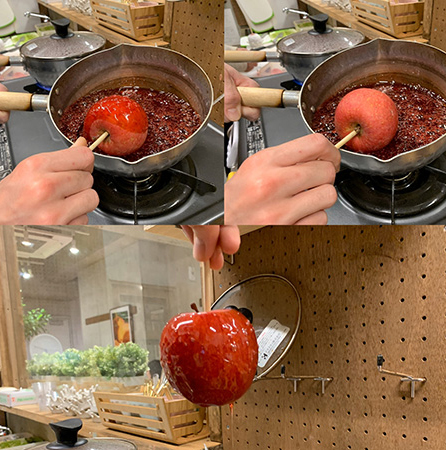 "Next was how to make the candy just the right hardness. It took a long time to determine the temperature and humidity required for a crispy texture."
When I asked him to take a picture of the person wearing the candy, he said, "Don't miss it because it's a game against time." Rotate the apples one after another over the granulated sugar that has been boiled over high heat, and add the candy. Considerable dexterity.
"If the temperature is low, it will feel sticky when eaten, and if it is too high, it will boil down at once. It looks easy and there are many techniques."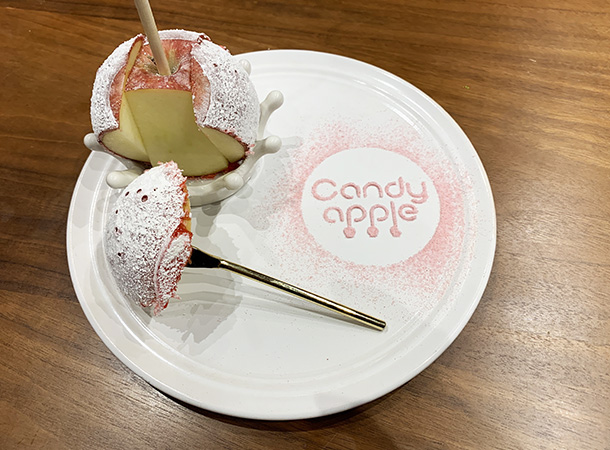 At first, the Italian restaurant "Buonappetito" run by my brother-in-law started as a store that opens only every Sunday. As soon as you can eat delicious apple candy, it becomes a hot topic and it develops as a pop-up shop. In 2020, we opened a main store with a cafe in Daikanyama and a store specializing in takeout in Harajuku.
"Actually, the number I had planned for as the target number on the first day of the opening was sold quickly, and I cut the apples. I also feel confident that the customers understand the taste that I made with particular attention. However, if this should never happen again, we will only secure apples.''
That said, even when the line became long, as it was introduced in the drama "Koi wa Tsutsuyoyo Domomo" (TBS series) and variety shows, it was said that many customers were able to deliver the product firmly.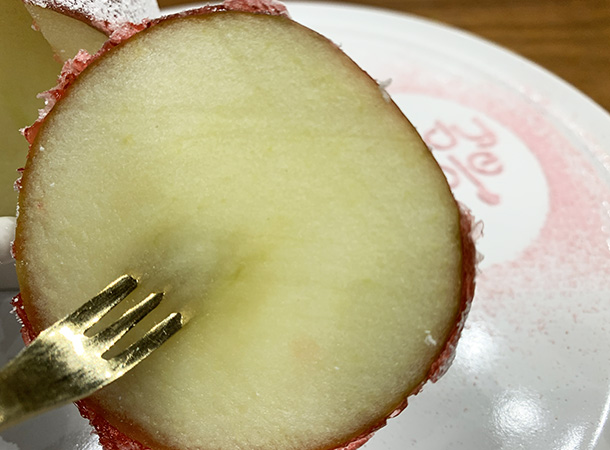 The reason why it is loved by many customers is the juiciness of apples that can be seen from the cross section. The center is visibly dense, and when you put it in your mouth, the sweetness and gentle acidity spread out.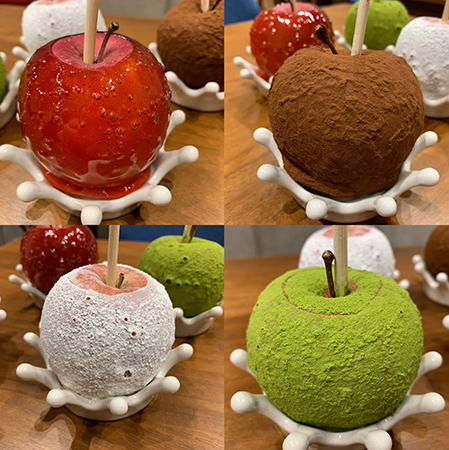 And another popular secret is the abundance of original flavors that cannot be eaten anywhere else.
"It's not just a variation, but each one has its own particularity. If you think that matcha goes well, go to Kyoto and choose the powder that best fits. I am confident in the cocoa variety."
・Royal Premium Plane 600 yen (tax excluded)
・Pure cocoa 600 yen (tax excluded)
・Yoguru chocolate apple candy 700 yen (excluding tax)
・Uji Matcha 700 yen (excluding tax)
In addition to that, Tanba black soybeans Kinako, cinnamon sugar, and flavors according to the time may be released.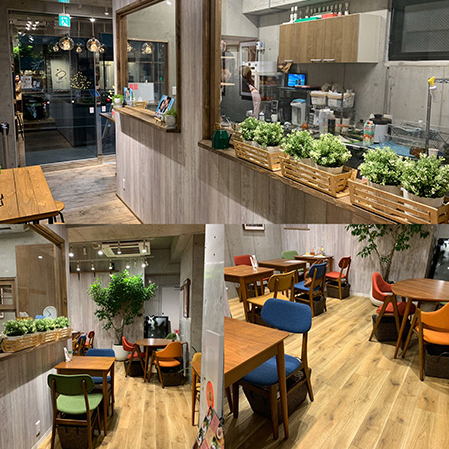 Currently, the cafe in Daikanyama is refraining from business, but takeout is OK in both Daikanyama and Harajuku. You can also purchase it online.
"I take out the cutout in a pack and put it in a pack. There are various combinations in the mail order, so please check the site. It is recommended that you eat it in the cold... No, but "Absolutely Please chill and write "(laughs). The taste is completely different."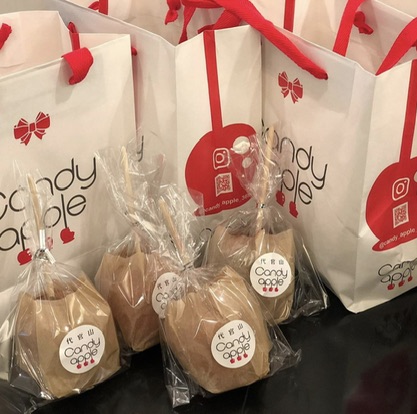 Now that you have a lot of time to spend at home, why don't you feel more at ease with apple candy?
Candy apple Daikanyama store
○Address: Ryuo Building 1F, 8-9 Daikanyamacho, Shibuya-ku, Tokyo
○ Business hours: 11:00 to 20:00

Candy apple Harajuku store
○Address: 3-23-5 Jingumae, Shibuya-ku

○ Mail order:https://candy-apple.stores.jp/

Rie Ohba
I love to eat deliciously and deliciously. If I hear the information of attractive shops, I will fly around Tokyo and go around. My longing is going abroad to eat delicious food.