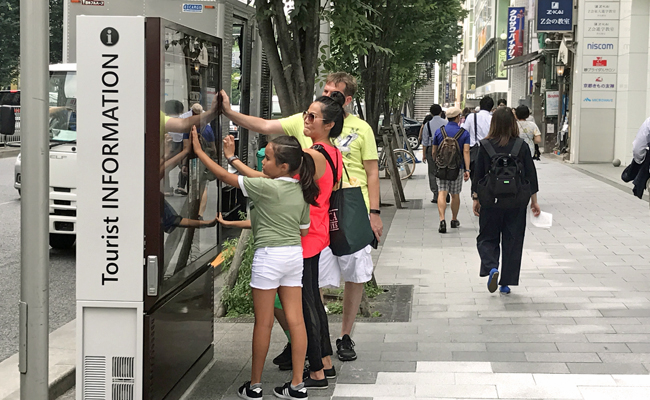 Easy operation with smart sense, "Digital signage for foreign travelers" appears along Meiji Dori
Recently, a "tourist information sign (digital signage)" with the indication "Tourist INFORMATION" is set on the sidewalk which is close to Shibuya station. Do you have any idea?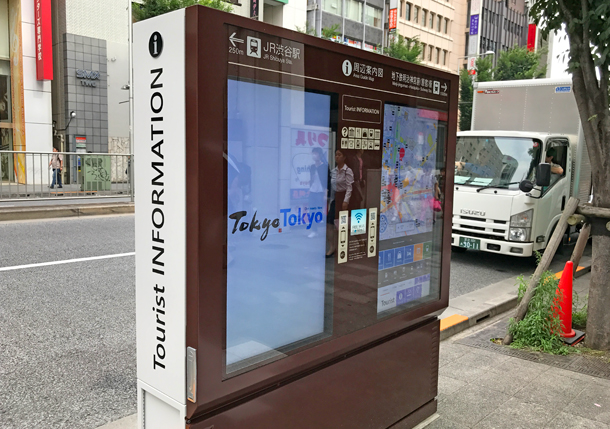 If I tell you a little more detail, I will head towards Harajuku along Miya Masuzaka under Meiji Dori, and after a while the "Bank of Tokyo-Mitsubishi UFJ" can be seen on the right. A little before this the eel store "Hanabusa Shibuya Main Store" is located, and a sign stands along the sidewalk in front of the shop. In fact, this is a tourist information sign that provides tourist information in multiple languages ​​for the purpose of "improving convenience for foreign travelers". The Tokyo Metropolitan Government and the Tokyo Foundation for Tourism Foundation are promoting maintenance for 2020, he says.

Although it is not a foreign tourist, I immediately tried touching a tourist information sign.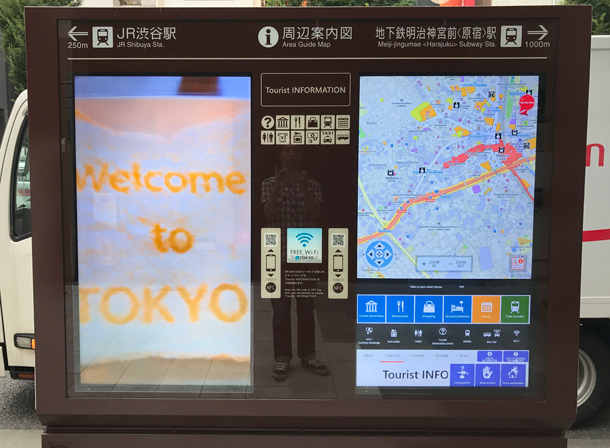 Large digital signage consists of two large vertical screens on the left side and the right side. Perhaps each vertical screen was designed by designing the display of the smartphone. A large map is displayed in the upper two-thirds of the right screen of the photo, and one-third of the lower one has navigation icons. Just tap lightly on all the operations, just like a smartphone. When there is no use by tourists, PR movies of Tokyo tourism are flowing at any time like the left screen, but when you touch the screen by hand, it switches to the map as soon as the right screen.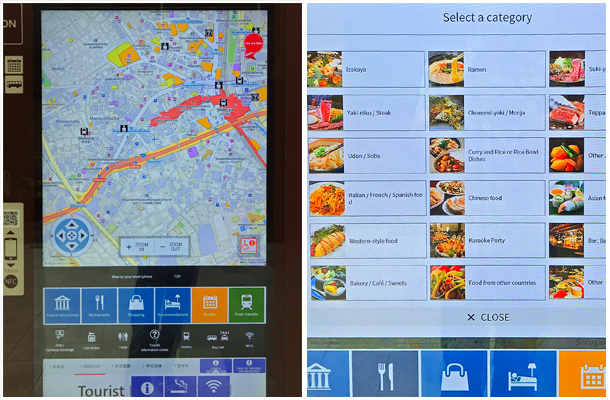 For example, when you tap "Restraurants (restaurant)" icon, a category list of eating and drinking establishments appears.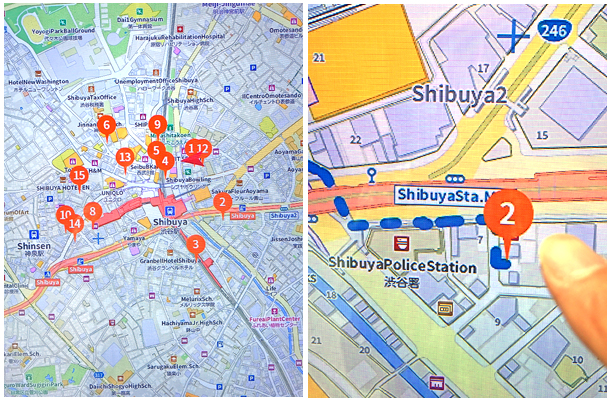 When you tap on one of the categories, "Numbered marks" appear around the current position on the upper map (left picture).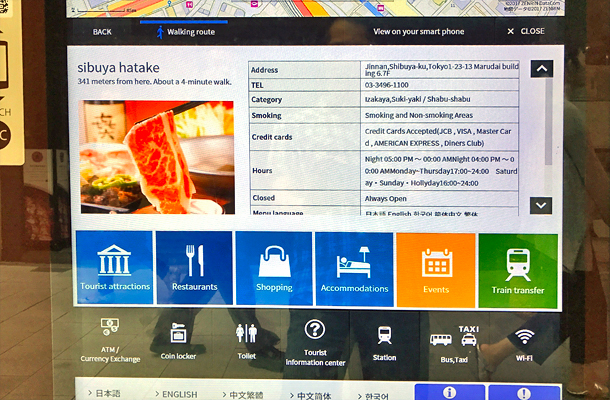 Further tap each number to display detailed information of the store. In addition, it displays recommended directions to each spot starting from the current location on the recommended route. Incidentally, the recommended route corresponds to barrier-free, it seems to be a way to safely reach the destination.
If you slide the screen with your finger, the map moves, spread out by spreading out two fingers, and shrink when narrowing it. It is pretty well done, and if you are using a smartphone everyday, you can operate without being particularly confused.

Contents that can be searched with this tourist information sign are "ATM / exchange office", "coin locker" "toilet" "bus / taxi" "free Wi-Fi" from basic information such as "sightseeing" "food and drink" "shopping" Spot and information useful for travelers such as "Fi spot" "surrounding event information" "train service information". Furthermore, a wide range of contents are covered up to urgent information and inquiries such as "lost article" "illness / injury" "time of disaster".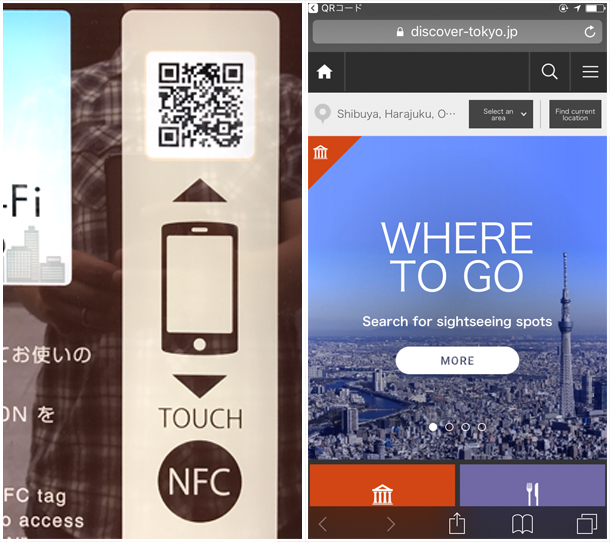 Information on tourist information signs is also linked with smartphones, and you can access the web from the Q code on the sign. The right photo shows the website screen accessed from the smartphone.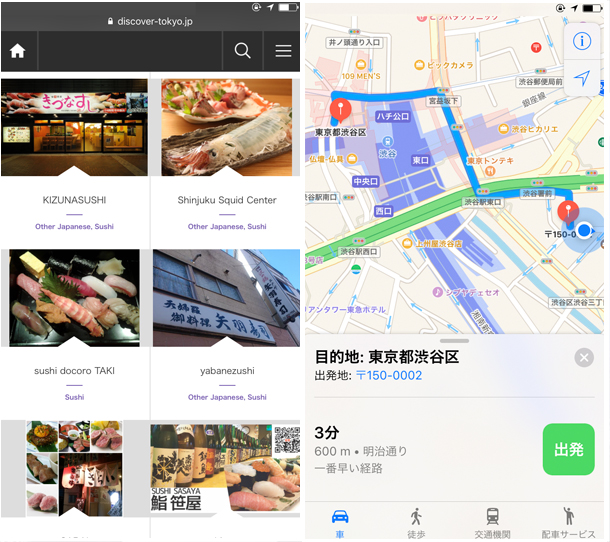 Spots and information displayed on tourist information signs can also be viewed on smartphones, navigating directions, so you can enjoy town walking with confidence after leaving the sign.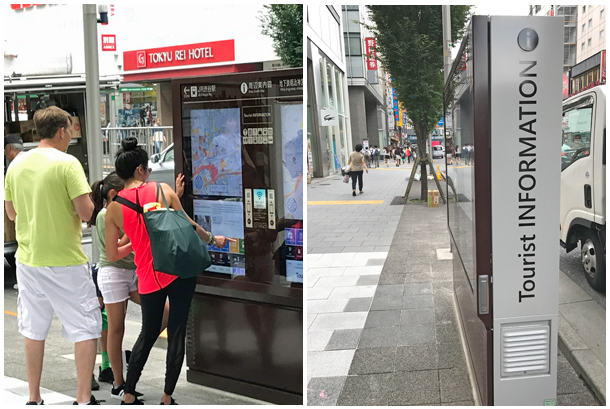 Many Japanese pass by without noticing this sign, but because of the English notation "Tourist INFORMATION", there were more foreign tourists stopping than they thought. Along the Meiji Dori, there are many tourists who walk from Shibuya station to Harajuku area and these tourist information signs may be useful. Even though Japan is said to be "a country of hospitality" in particular, it seems surprising that those who avoid sniffing as foreign visitors are about to be asked when they are ready to speak. If you have this information sign in the vicinity, it is safe to move while watching the map, even if it is frustrating English. Also, if you are not an English-speaking traveler, you can switch languages ​​to Chinese (Traditional Chinese, Simplified Chinese) and Korean, so it seems that they will be able to guide directions without some fear.

Incidentally, "Tourist Information Signage (Digital Signage)" is set up in 15 areas in areas where many foreign tourists visit, such as Shibuya, Shinjuku, Ueno, Akihabara, Tokyo Station, Roppongi, Odaiba etc during this year. In Shibuya, there are "Hanazobashi Shibuya store front" (1-15-20 in Shibuya-ku, Shibuya-ku), "ROSE BUD front" adjacent to SHIBUYA CAST (Shibuya Ward 1-23-18), " "(Shiguya-ku Jingumae 6-19-16). Although it is still far from "Improving the convenience of foreign travelers", by the year 2019, about 100 "sightseeing information signs (digital signage)" will be set up, tourist information signs and free Wi - Fi It is said that expansion of the window of the tourist information office will be promoted, too.

For automated translation applications and hospitality robots, for the year 2020, the field of "tourism × technology" will have more interesting tools. I would like to keep an eye on inbound efforts in the future.

Editorial department · Fuji Itakashi
Shibuya registrar. In addition to Shibuya of Culture information, seasonal news and topics, it will spell write that feel every day.