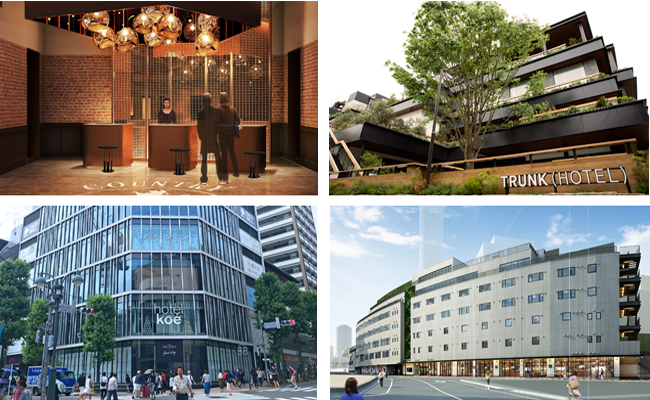 It will change before the Olympics! What? Latest hotel situation in Shibuya
| Does the hotel development speed up with "New Housing Law" and "Love Ho Regulation Deregulation"?

The 2020 Tokyo Olympics is calling for strengthening the acceptance system of foreign tourists to Japan. Transport infrastructure, signs, English correspondence, etc. are not exclusive numbers. Among them, the biggest problem in Shibuya is probably the shortage of accommodation facilities such as hotels and inns. According to the survey of March 2016 Source: Welfare and Sanitation Statistics Annual Report, the number of hotels and inns in Tokyo is 258 in Taito Ward, 201 in Shinjuku Ward, 162 in Toshima Ward, Shibuya-ku (103 places) is fifth after Ward (124). However, in the number of rooms, there are 25,290 rooms in Shinjuku (17,228 rooms), Chuo Ward (14,536 rooms), Chiyoda Ward (13,167 rooms), Taito Ward (12,915 rooms), Toshima Ward (10,255 rooms), Shinagawa Ward Following Koto Ward (6,583), Shibuya Ward (5,803 rooms) ranked the 9th largest ranking and ranked low in capacity to accommodate tourists while being a big city.

Against this backdrop, it is said that there is an influence of "Shibuya Ward Love Hotel Building Regulation Ordinance" enacted in 2006. Although it was a regulation established to suppress new construction of a love hotel which originally accumulates in the area of ​​Tsuchiyama Town, it also resulted in hindering general tourism and the construction of new business hotels. In order to prepare the acceptance environment of foreign tourists for the Tokyo Olympic Games, Shibuya Ward revised the ordinance in October 2016 and deleted provision such as "Hotel front desk and lobby on first floor". Regarding the establishment of large-scale accommodation facilities of 100 rooms or more, measures have been taken by implementing mitigation measures such as excluding from this regulation.

Furthermore, in December 2017, due to the expansion of demand for guest houses and private accommodations, the law to amend part of the ryokan business law was enacted, and since June 15, 2018, significant regulations on acquisition of business permits for hotels, inns and simple accommodation Relaxation took place. Along with that, in Shibuya Ward a part of "Shibuya Ward Love Hotel Building Regulation Ordinance" was reviewed for consistency with the revised law. "The total floor area of ​​a single room of 18 square meters or less is one third or more of the total floor space of all guest rooms", "Double bed (width of 1 - 4 meters or more)" The number of rooms equipped is less than 1/5 of the total number of rooms "has been deleted from the ordinance, development of guest houses such as hotels and ryokan in Shibuya Ward will be much easier in the future. On the other hand, we redefined love hotels and strict rules to prevent new buildings from being deregulated.

現在の渋谷駅周辺のホテル・旅館、簡易宿泊施設、民泊等の分布状況を、グーグルマップにまとめてみた。ホテルの全体像を俯瞰して捉えてみてほしい。 渋谷駅周辺には、「ホテル」(赤いアイコン)、「簡易宿泊施設・ドミトリー・カプセルホテル」(青いアイコン)などの宿泊施設が集積している。一方で駅からやや離れたエリアには、「民泊」(黄色いアイコン)が広く分布していることが分かる。今までは無届営業(ヤミ民泊)が横行していましたが、6月15日以降は民泊事業を行うために行政への届出が必要とされ、以前よりも民泊事業のハードルが一気に高まった。ちなみに15日までに、渋谷区に届出のあった住宅数は129件を数えた(黄色いアイコンは、届出のあった住宅をプロットしている)。
| Entering hotel business from different industries

Looking at the hotel that opened in Shibuya during the past year, we will see "TRUNK HOTEL (trunk hotel)" in Jingumae on May 13, 2017, "hotel koe tokyo" in the park on February 9, 2018 Kote Tokyo), "HOTEL EMIT SHIBUYA (Hotel Emit)" in Kanan 1-chome on March 1, and the capsule hotel "The Millennials (The Millennials)" in Kanan 1-chome on March 15, New hotel establishment continues one after another due to lodging demand.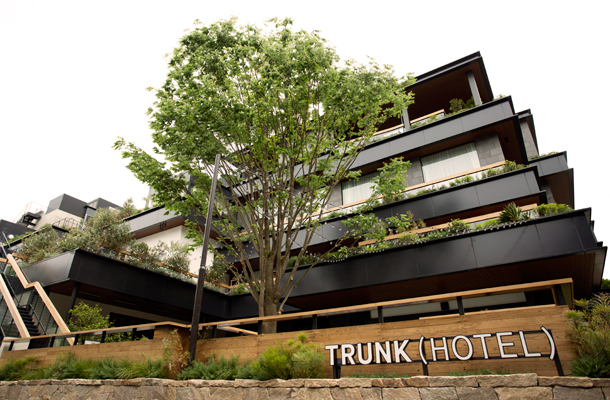 ▲ "TRUNK HOTEL (Trunk Hotel)" opened on May 13, 2017 (Shibuya-ku Jingumae 5 - chome 31). All 15 rooms. The hotel is characterized by an interior decorated with different themes for each room.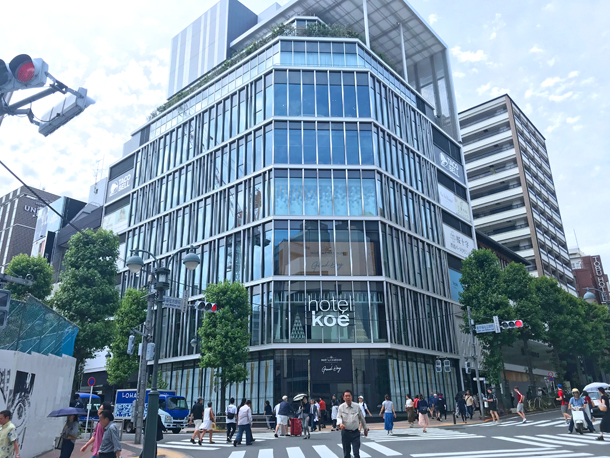 ▲ "hotel koe tokyo" (Hotel Co to Tokyo) "opened on the site of Parco Part 2 on February 9, 2018 (3-7 Udagawa-cho, Shibuya-ku). 10 rooms in total. A hotel with a global flagship store of brand "koe (koe)" handled by stripe international.
Especially as a recent trend, entrants from different industries which do not make hotel as a main business such as "trunk hotel" managed by wedding giant Take amu Give · needs and "co-to-the-owner" operated by strip apparel leading big stripe are conspicuous . It can be seen that utilizing the expertise and assets cultivated in other businesses, such as complex with merchandise sales, eating and drinking, events, etc., we are actively working on creating a new hotel that simply does not stay at accommodation facilities aimed at "stay" .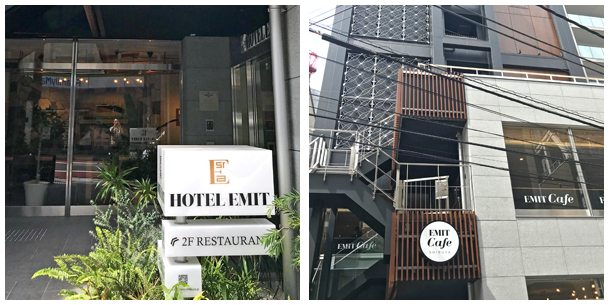 ▲ "HOTEL EMIT SHIBUYA (Hotel Emit)" which opened on March 1, 2018 (Shinagawa-ku Kanami 1 - chome 8 - 11). 72 rooms in total.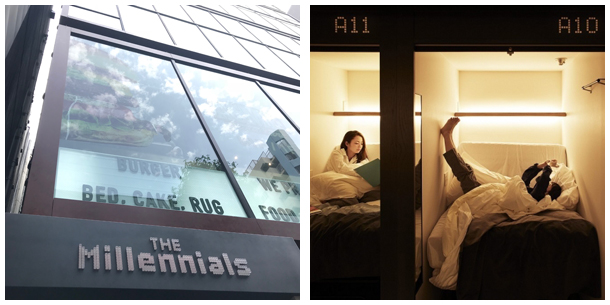 ▲ The capsule hotel "The Millennials (The Millennials)" opened on March 15, 2018 (Shinagawa-ku Kanan 1 - chome 20-13). All 120 rooms. Global Agents dealing with social apartments operate. We evolved the conventional capsule hotel, developed a private room "smart bod" which raised the comfort, function and entertainment more independently and develop it.
| In autumn, two hotels were born in Shibuya 's B side area "southeast area"!

The purple icon in the Google map is a hotel scheduled to open in the future. " SHIBUYA STREAM Excel Hotel Tokyu" (operated by Tokyu Hotels) is located in the middle of the large-scale complex " SHIBUYA STREAM " scheduled to open this autumn, and at the new complex "Shibuya Bridge" which will be constructed at the railway track of Toyoko Line Mustard Hotel (operated: THINK GREEN PRODUCE) for single travelers such as backpackers, and Mitsui Fudosan has decided to build a hotel in Miyashita Park with planned opening in 2019.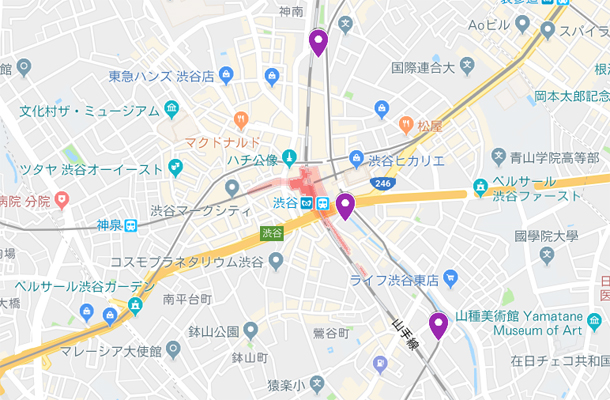 ▲ Hotel scheduled to open new business by 2020.
As you can see from the map, all new hotels concentrate on the east side of Shibuya station. Among them, two hotels with different personality are newly born in the southeastern area which will redevelop the site of the Toyoko Line.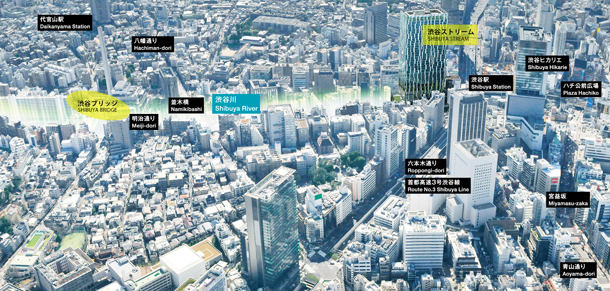 ▲ Shibuya station south side bird's-eye view, photo provided = Shibuya bridge
If the A side of Shibuya is northwestern part of Shibuya, the southeast part is the B side of the area, it can be said that it is an area that has not attracted so much attention so far. By creating two hotels this autumn, it seems that attention from Shibuya to Daikanyama and Shibuya to Ebisu area will increase.

Let's take a concrete look at the outline of the facilities of the two newly opened hotels.

" SHIBUYA STREAM Excel Hotel Tokyu" is opened at the same time as " SHIBUYA STREAM " which opens on Thursday, September 13.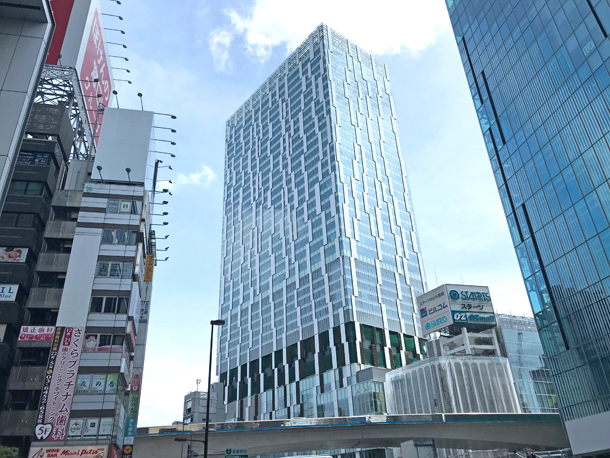 ▲ " SHIBUYA STREAM " that opens on September 13, 2018. "Shibuya Excel Hotel Tokyu" opens on the 4th and 9th floor to the 13th floor of the same building.
The total number of rooms in this hotel occupying the floor part of 35 floors above the 4th, 9th to 13th floors is 177 rooms. Because the "Shibuya Excel Hotel Tokyu" in SHIBUYA MARKCITY directly connected to the station is 408 rooms, the scale is about a third, slightly smaller. Based on the concept of "LITY THE SHIBUYA SENSIBILITY, a hotel that stimulates sensitivity from the Shibuya to the world," Shibuya 's values and sensations that are constantly disseminating new cultures are taken into the design of hotels, It is said to aim for a hotel that stimulates sensibility. The Excel Hotel in SHIBUYA MARKCITY facing the scramble intersection imagines the bright "Shibuya" poured by the light, while the "Excel Hotel" in the SHIBUYA STREAM is an artistic and more committed " Shibuya on the back "" Underground Shibuya "image drifts.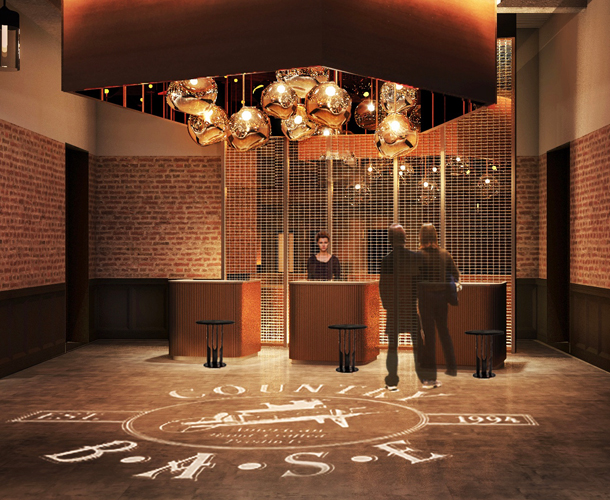 ▲ Excel Hotel Tokyu 4th Floor Front
The floor composition is located on the 4th floor of the middle floor, the reception is on the 9th to 13th floors. The front which becomes the gateway of the hotel is a fashionable construction which guides guests individually by island style. On the same 4th floor there is a lobby, lounge, Bar & Dining, which is a public zone that encourages communication with lots of crowds, besides guests, offices and hall users. On the 14th - 35th floor, Google Japan corporation has decided to move in, and the floor which overlaps with the office entrance will surely be a place for international people to go and go.

Bar & Dining "TORRENT (Trent)" chef is responsible for two star restaurants in Bordeaux and Nobuo Nagasumi who studied at Paris and the three star restaurant in Burgundy. We will offer stylish cuisine that makes you feel "Japan" with consciousness of guests from overseas.

▲ Excel Hotel Tokyu Room
Guest room on 9 th to 13 th floor directs space with creative design expressing "vintage modern" based on "concept of creators feeling Wao!" Concept. "Fashion cloak" is an image of the display of an apparel shop in Shibuya, a sacred place of fashion culture, characterized by cloaks that show. There are 124 single and double rooms, 50 ruins rooms and 3 deluxe rooms. The room rate varies depending on the time and the day of the week, but from 20,000 yen per person per night.

In addition, as a new unique attempt by the hotel, a "meister room" is set up in front of the elevator on each floor. For example, "Cycle Machine, Stretch Mat" on the 9th floor, "Shoe Shine Goods, Foot Care Goods" on the 10th Floor, "Laundry, Iron, etc." on the 11th Floor, "Vending Machine" on the 12th Floor, "Electron Range, toaster, sink ", said that you can share lending equipment etc. It is said to urge people to move to each floor for items and propose new ways to spend at the hotel.

We are already accepting reservations on the official website.
https://www.tokyuhotels.co.jp/stream-e/


| Dormitory type hotel for backpackers

Another new complex "Shibuya Bridge" is located ahead of the promenade which extends from SHIBUYA STREAM to Daikanyama along the Shibuya River by 600 meters. It consists of buildings of three buildings A building and seven floor building B building. The hotel "MUSTARD HOTEL (mustard hotel)" to be a accommodation facility for foreign travelers such as nursery school type approved kids' school in the building A and backpackers in the building B opens, as well as the fact that offices and cafés move in Has been decided.

<参考記事>
Shibuya Bridge, opening to the Toyoko Line / Railway site, approaches the mystery of the design depicting "R"!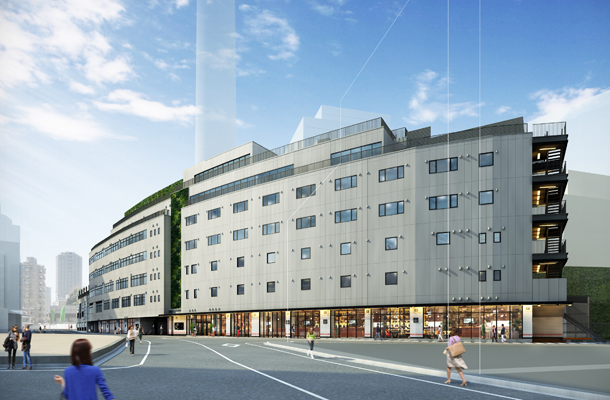 ▲ Shibuya Bridge B building exterior image (Shibuya station side) Photo provided = Shibuya bridge
Built using the site of the Toyoko Line railway, the width of the hotel is about 10 meters. This tight space is the image of the high bridge that the Toyoko Line's vertical line was running. "To the existence like the hakuka taste of the city" is said to aim to create a hotel as "a place to enjoy the city", not just a "place to stay". Operation is THINK GREEN PRODUCE (Sink Green Produce). Shared office "COOk & Co" (Shibuya / Jingumae) with a kitchen studio such as "THE SCAPE (R)" (Shibuya · East), Bakery Cafe "GARDEN HOUSE CRAFTS" (Shibuya · Daikanyama), Shibuya- We are doing all the work from building planning to store management. It is one of the polyvalent attention companies that performs both hard and soft.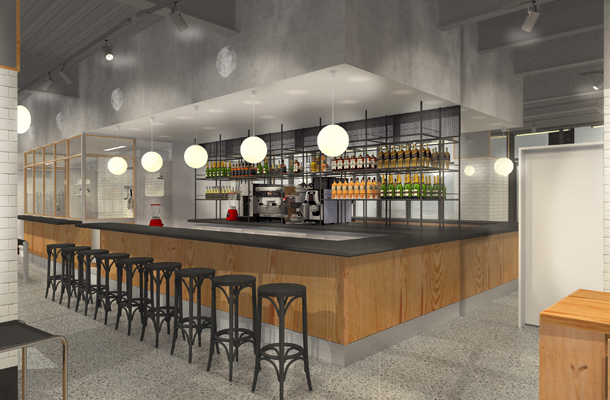 ▲ Shibuya Bridge B Building Hotel Hotel Cafe · Lounge Image Photo provided = Shibuya Bridge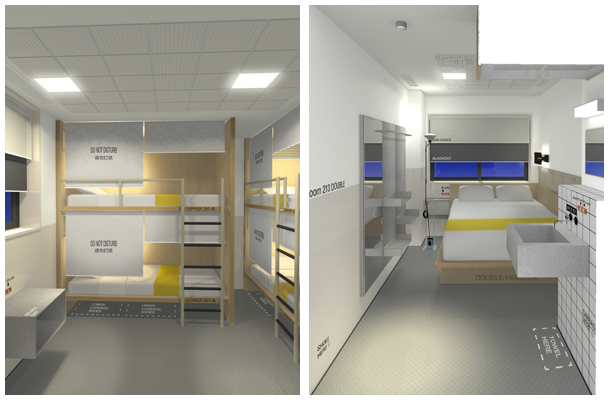 ▲ Shibuya Bridge B Building Hotel Room Image (Left: Double / Right: Dmitry) Photo provided = Shibuya Bridge
There are 64 rooms twin / double (2 people / room), 2 deluxe rooms (4 people / room), 6 dormitory rooms (6 people / room), 3 family rooms (4-6 people / room), 1 accessible room 2 people / room) totaling 76 rooms (182 people). Prices are very reasonable priced in the Shibuya area, such as dormitory 4,200 yen ~, twin 7,350 yen ~, deluxe 10,800 yen ~ and so on. Each room is equipped with a TV, kettle pot, refrigerator, hair dryer, Wi-Fi, trouser press, electric stand, iron, humidifier, wheel chair and so on. Breakfast is served homemade bread and coffee for free.

Mustard Hotel also accepts reservations.
https://mustardhotel.com/

" SHIBUYA STREAM Excel Hotel Tokyu" and "Mustard Hotel" are greatly different in color, and they are also nice to use properly according to the application. Currently, it is said that about half of the hotel guests in Shibuya hotel are foreigners. Perhaps the ratio has risen to 70% at the time of the 20th Olympic Games held. Speaking of sightseeing spots in Shibuya, we are concentrating on the "Hachiko front square" side such as "faithful dog Hachiko statue" and "Shibuya scramble intersection" "SHIBUYA 109", but two new hotels along the southeast area, Shibuya River Will create some change in the migration pattern of the city of tourists.

From the luxury hotel to the business hotel, the dormitory, the capsule hotel, and even the private residence that conducts private houses sales, the range of accommodation choices in Shibuya is likely to widen at a stretch.
<Related information>
Radio program "Shibuya Culture Project" delivered every other Wednesday from 15:30 to 16 o'clock in the community FM station "Radio in Shibuya". Wednesday, June 6 (Wednesday) To the program guest of OA I greeted the person in charge of Tokyu Hotels which operated " SHIBUYA STREAM Excel Hotel Tokyu" which is scheduled to open this autumn and heard information about the new hotel. If you would like to know more information please also listen here.
"Shibuya radio" The download of the official smaho application is below.
iOS version:Urx.mobi / tpcS
Android version:Urx.mobi / tpd1

Editorial department · Fuji Itakashi
Shibuya registrar. In addition to Shibuya of Culture information, seasonal news and topics, it will spell write that feel every day.