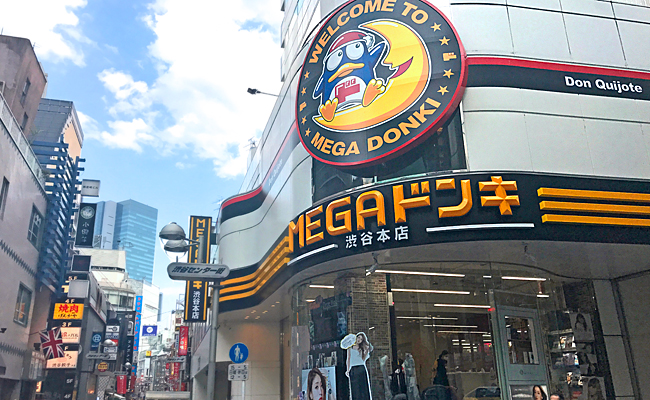 Shibuya's "MEGA Donkey" targeting families and women's groups - "fresh food items" "strengthen regional cooperation"
On 12th May, "MEGA Don Quijote Shibuya Main Store", which is a flagship store of Don Quijote, opened in Shibuya / Cultural Village Avenue and has attracted big topics. Nonetheless, it was not the first advancement in Shibuya, but originally there was "Don Kitty Hall Shibuya Store" opposite the Tokyu department store head office. Prior to the opening of MEGA Don Quijote Shibuya Main Store this time, Don Quijote Shibuya Store has closed its business for 18 years on May 7.

So why did you open a new door to the other side?

◎ The keywords are "fresh food", "regional partnership"
The reason is "New establishment of fresh food store" for the family and women group and "Shopping area specializing in the Shibuya area creating a sales floor". Specifically, I would like to break down the reasons. "Don Quijote Shibuya store" which opened in 1999 is one of the earliest stores of Don Quijote 20th. At that time, Don Quijote targets the single layer in the 20s and 30s, mainly dealing with luxury brands, home appliances, cosmetics, party goods, foods, etc, and creating a sales floor where pressure is displayed like a "jungle" in a narrow aisle It was a feature. 18 years since the opening of the Shibuya store, during that time the number of stores of the Don Quijote Group expanded to more than 360 stores. Particularly in suburban stores, not only the traditional young single layer, but also the family and the female are expanded targets and the growth has dramatically progressed.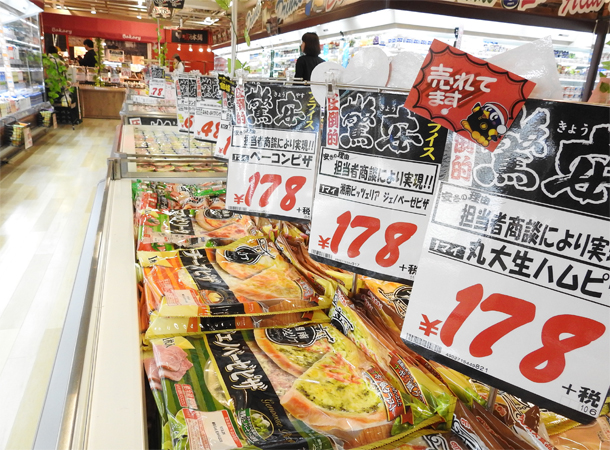 MWGA Don Quijote Shibuya Main Store basement 1F Perishable goods store
The biggest factor that pushed up its growth is the acquisition of the comprehensive super market "Nagasakiya" in 2008. The large store that was originally Nagasaki shop changed its brand name as "MEGA Don Quijote" which has a fresh food store centering on "vegetables", "meat", "fish" and "side dish". Donki, which was a "discount store" for single tiers, turned into a turning point to transform into a comprehensive supermarket for families and women.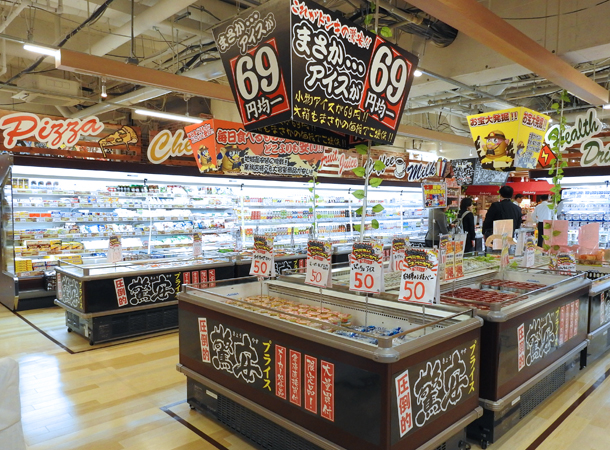 Basement 1F Perishable food item floor. Inside the wide aisle, cleanliness sense
Even now, there are many people who imagine Donki as a discount store for young people, but for the inhabitants of western Tokyo where "MEGA business style" such as Musashi Koganei, Tachikawa, Higashikurume etc. gathered, as a supermarket There will definitely be few people. The new store opened this time will be the biggest "MEGA business style" in the city center. The former Shibuya branch was a total of 4 floors from basement 1 floor to above ground 3 whereas the new store is a total of 7 floors (550 square meters in sales floor space) totaling 7 floors from the basement 1st floor to the 6th floor ground, the sales floor area is about 3 times Expansion to. The number of items will be doubled from about 40,000 points to about 80,000 points. Also, you can not miss the goodness of the location, such as the front door facing the main street along Culture Village and the back entrance faces the center street.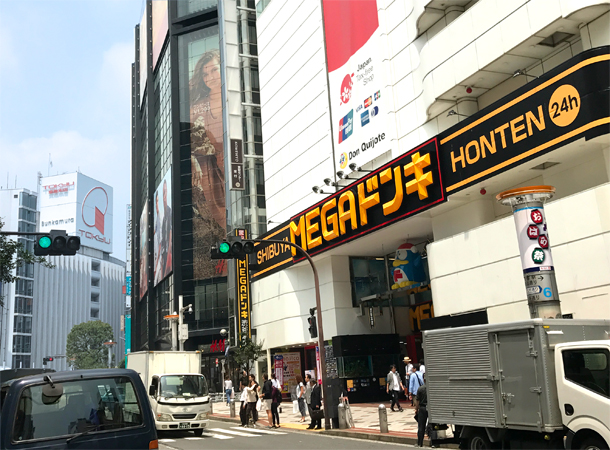 ヤマダ電機の斜向かい、H&Mに隣接する好立地
The floor area of ​​the sales area and the location are perfect. Nonetheless, why do we need to expand suburbs and road site type "MEGA business" in Shibuya?

◎ To save shopping refugees in Shibuya, the "fresh food goods store" near the station was born
SHIBUYA CAST 1F opened in the previous day also mentioned the opening of "Tokyu Store Afood Station", but around Shibuya station "supermarket barren areas" including large and small, there are a lot of Shibuya residents falling into "shopping refugees" . There is "Life Shibuya Higashi shop" about 800 meters from the station, but it is a little far impression to walk again. This time, the product structure of the new store is 15% fresh, 20% food, daily miscellaneous goods / consumables 35%, trend products (party goods etc.) 30%, fresh food not handled in old stores 15% To occupy. In other words, it can be said that the birth of a "fresh food shop" in the vicinity of the waiting station that rescues shopping refugees.
Reference article:SHIBUYA CAST opened "Tokyu Store Food Station" (published on April 28, 2017)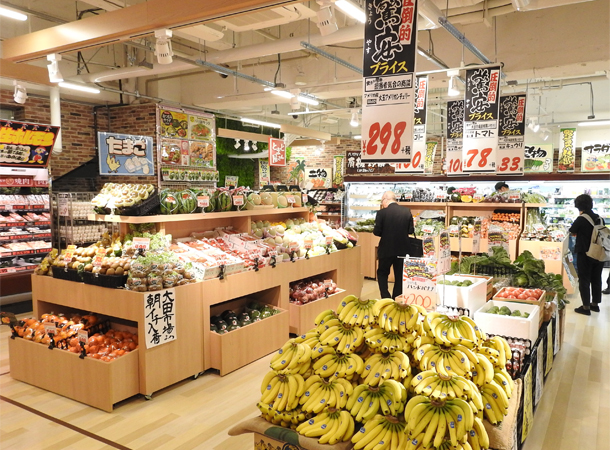 Now, let's take a closer look at the perishable food shop located on the first basement floor. Every morning vegetables and fruits are freshly bought at the Ota market which is a kitchen in Tokyo.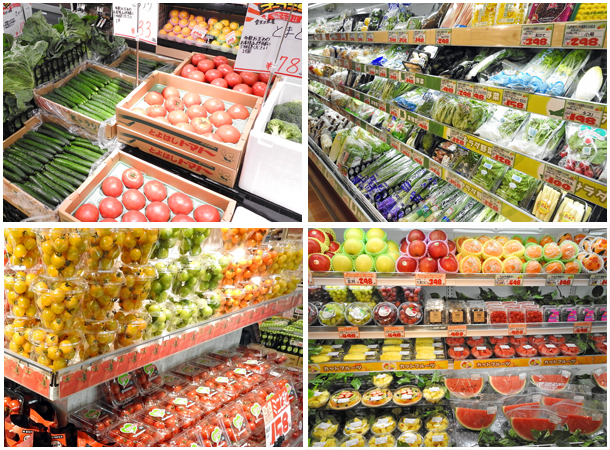 Not only vegetables with domestic demand such as onion, carrot, radish and cabbage, as well as young people and female popular tomatoes have many varieties. Fishes are somewhat less handled with raw fish, and for families it may be somewhat unsatisfactory. Among the fresh four items, the eyewitness was the "meat corner".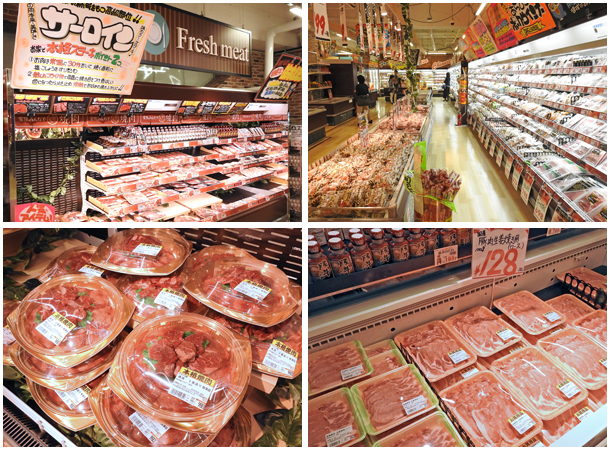 Products from a wide range of applications and price ranges are being deployed, including staples such as cattle and pigs, chicken meat and ground meats, packs for party demand for grilled meat and steaks, and "Kobe beef" special counter .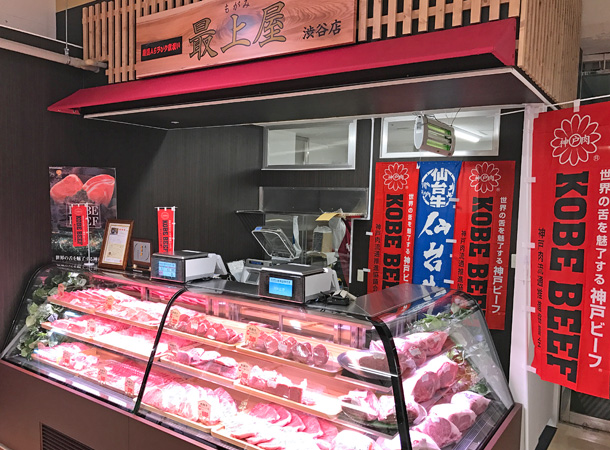 "Kobe beef" is written as "KOBE BEEF", and it sees the aim to appeal Japanese cow which is also popular abroad for foreign tourists.

◎ "Freshly prepared ready-made dishes and lunch boxes" cooked in facilities, full of mobile food
In response to lunch demand of salaried workers and OL layers, there are also many variations of lunches and prepared dishes. In the product group unique to Shibuya shop, "mobile food" such as "Ogura Rusu" "hand-rolled sushi" "fried in a cup" is conspicuous without requiring chopsticks etc.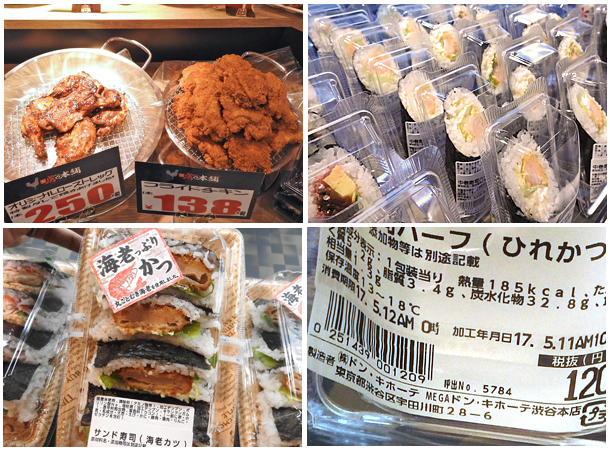 If you look closely at the lunch box or sticker on the side dish (bottom right of the photo), you can see the notation "MEGA Don Quijote Shibuya Main Store Shibuya Ward Udagawa ..." in the manufacturer column. When asked the sales staff, we set up a kitchen space on the 7th floor and said that they are doing all the cooking there. Having a kitchen space in the facility has the merit of the store side that it is possible to fine-tune manufacturing while watching the sale and to reduce food waste disposal loss. Besides, customers also benefit from being able to eat "freshly prepared food". It will be easy to introduce the seasonal menu according to the regionality and flexible customization according to customer needs.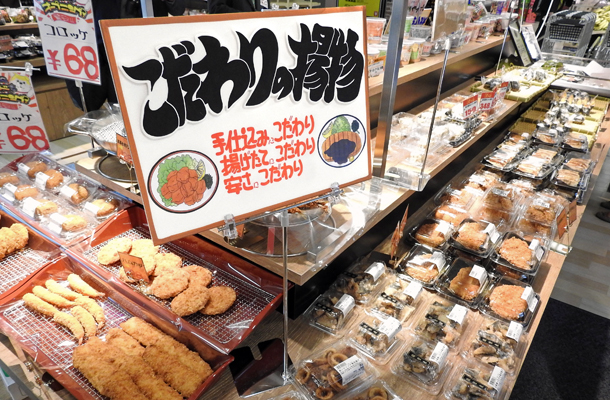 The fresh food store of "near the station" "low price" can be said to be appreciated for people living in Shibuya as well as those working in Shibuya and restaurants that operate restaurants in Shibuya. For example, in the case of salaried workers working in Shibuya, living in the suburbs, OLs, when returning home on business is delayed, it is not unlikely that they will be late for business hours of supermarkets near their homes. Because the new store is open 24 hours, it seems that more options will be added to go home after shopping at Shibuya.

◎ Order for "business cut vegetables" to meet the needs of neighboring restaurants
There are good news for shopkeepers who run restaurants at Cultural Village Street and around the center of town. Even if you discontinue the ingredients during business, if you have a store that is open around the clock for 24 hours it is encouraging. In addition, as a new service for restaurants, "ordered vegetables for business use" has started to sell orders.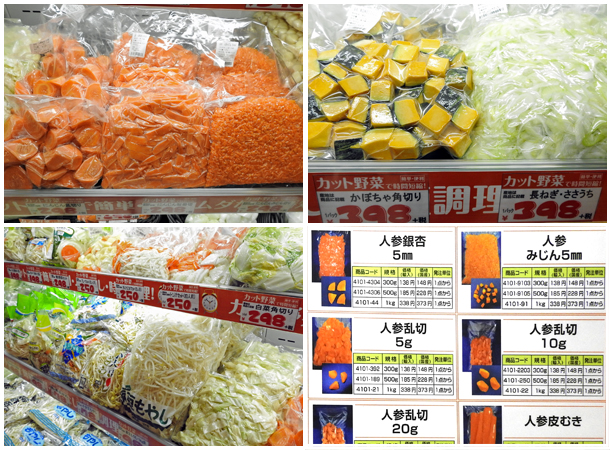 For example, in the case of carrots, there are variations such as strips, ginkgo 3 mm · 5 mm, irregular cut 5 g · 10 g · 20 g, shredded, 5 mm dumplings, peeling in total 8 types, the amount is 300 g, 500 g, 1 kg. In addition to carrots, various cut vegetables are prepared according to menu contents developed at eating places such as radish, pumpkin, turnips, green peppers, lettuce, potatoes, onion and the like. Besides that, for non-vegetables, business hams, sausages, pickles and so on, large volume products are available. Both of them have chosen "challenge the region's lowest price", and the tension will rise in a big city / Shibuya's unlikely price.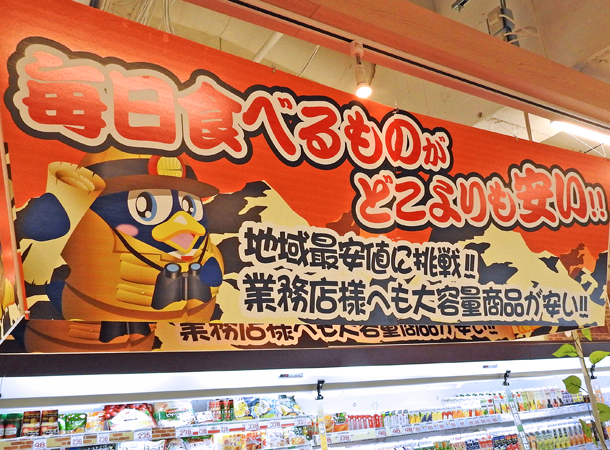 ◎ "Shibuya souvenir" sale to meet inbound demand
In addition to "fresh food department", there is another appealing point of new store. That's "creating a sales floor specialized in the Shibuya area." Last autumn, the company agreed with Shibuya-ku's "Zero Halloween Operation in Shibuya 2016", participating in activities to call for improvement of manners, such as providing toilets and change rooms and bringing garbage home. As a result of this activity, he is deepening "regional collaboration" as a company that conducts business in Shibuya.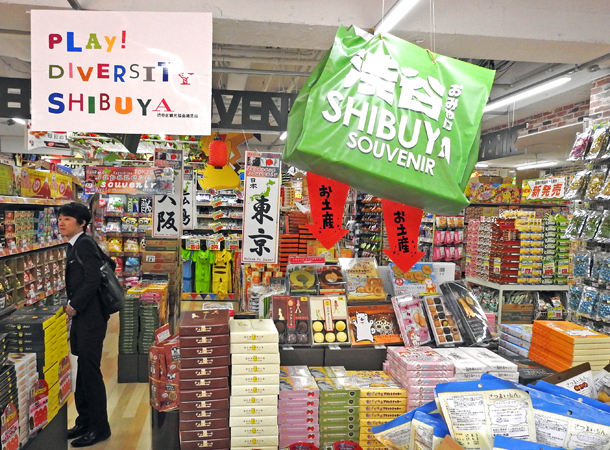 The store that best considers "regional collaboration" at the new store is "Shibuya souvenir" corner installed on the 1F floor. Despite the content that can attract foreign tourists in Shibuya such as "Haitian dog Hachiko statue" and "scrambled intersection", there is no "souvenir" which can be called a specialty at all. Even by looking at the figures for the entire Don Quijote Group, the top shops with high inbound sales are No. 1 "Dotonbori Midosuji Store (Osaka)", 2nd "Dotonbori Store (Osaka)", 3rd "International Street Store (Okinawa)". In Tokyo, the fifth place is "Shinjuku east exit shop (Tokyo)", the seventh place "Ginza main store (Tokyo)" ranked in, but Shibuya shop says it is out of the ten best range. Although it is regarded as a problem from a long time ago, it is regarded as a major task to enrich "Shibuya Miyage" as a whole in Shibuya.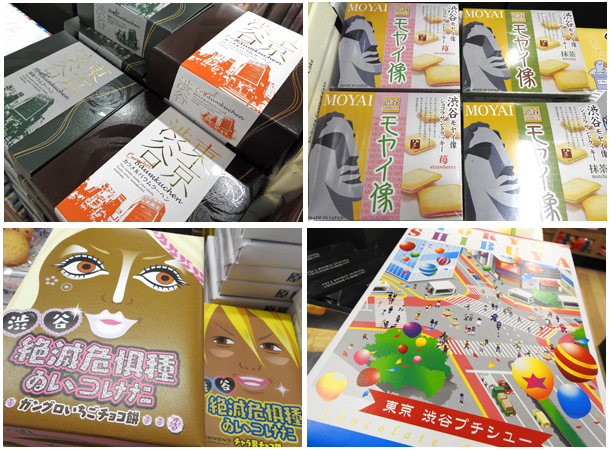 Therefore, at the new store, we aim for appealing to foreign tourists, and cookies and cakes with motifs such as "Hachiko", "Moyya statue", "Ganglo" etc., Shibuya Ward Tourism Association recommended "Shibuya Miyage" It develops on 1F floor which is noticeable most. In addition to "Shibuya Miyage", there are many "souvenirs all over the country" that respond to inbound demand such as "Tokyo Miyage" "Local souvenirs" etc. Also, at the 3F tax exemption counter, staff who can speak English, Korean and Chinese are made to reside and prepared for foreign tourists' correspondence.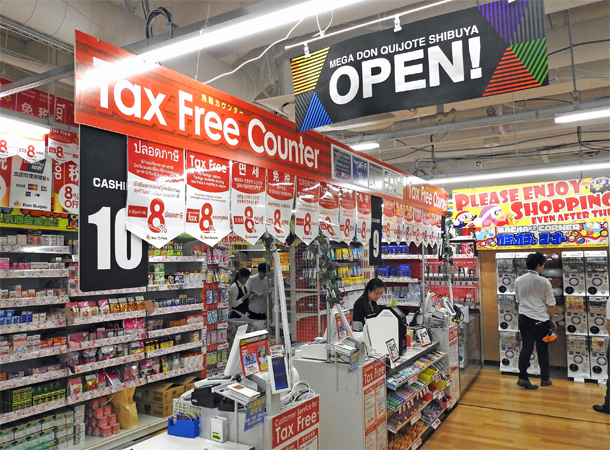 Next to the tax exemption counter, we set up a popular gachapon for foreigners. Especially it is said that cartoon characters such as One Piece and Dragon Goal are popular.

◎ "Individual toilets" aiming for Tie-bar City, also considering LGBT
"A city that changes the difference between the two. Shibuya-ku "as a slogan, we will also proactively work on" diversity-type town planning "promoted by Shibuya-ku. Among them, attention is focused on sexual minorities (LGBT) in addition to "men's toilet" and "female toilet" for parents with disabled people and babies, as well as sexual minorities (LGBT) GENDER (all gender) single room toilet "has been introduced. It is convenient when the next male and female toilets are crowded.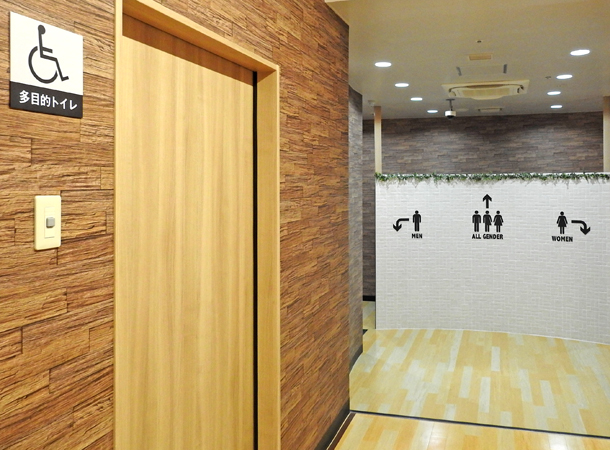 Besides that, we designed a store that makes images of "Shibuya scramble intersection" imagined in the store's escalators, elevators, signs of each floor, etc. and incorporates photographs of the streets of Shibuya into the interior, creating a store that is conscious of "regional collaboration with Shibuya" We are.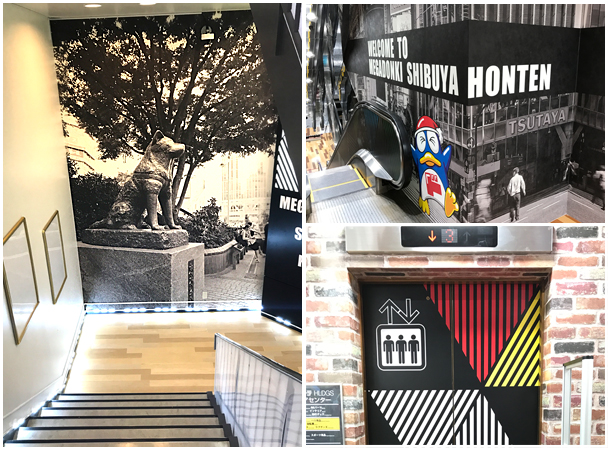 New store that strengthened "fresh food", "regional collaboration" and "inbound". The sales target is annual sales 10 billion yen (annual sales of old stores 4 billion yen), the number of visitors a day aim to 10,000 people. Family, the suburban type "MEGA business style" which also incorporates the female population will be successful in Shibuya, and attention will be paid to future trends. However, there are many who are shunned in jungle display for young people for a long time ago, but there are many people who are shunned, but unlike the former donkeys, the shop floor is wide and the inside of the store is full of cleanliness. I want you to look inside the store once the reconnaissance. I'm sure the impression will change.

Editorial department · Fuji Itakashi
Shibuya registrar. In addition to Shibuya of Culture information, seasonal news and topics, it will spell write that feel every day.