24th Shibuya Sakuragaoka Cherry Blossom Festival
Screenings, performance has ended.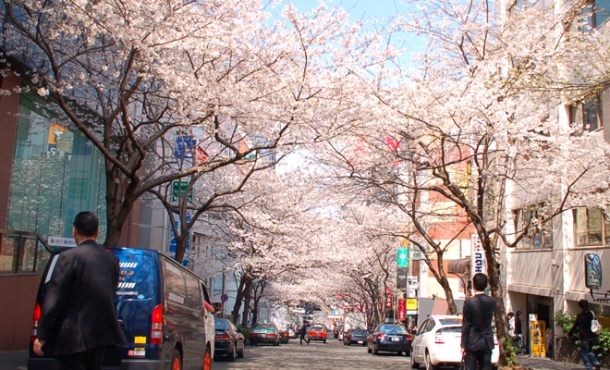 Both days of March 25, around Sakuragaokacho the town along the national highway 246 Route (gold), 26 (Saturday), annual Shibuya Sakuragaoka every year, "Cherry Blossom Festival" will be held. Sponsored by Shibuya Station prosperity Board, Shibuya Sakuragaoka Cherry Blossom Festival Executive Committee.

Shibuya Infosutawa square was used as a main venue, the same project to be implemented at the center of the row of cherry trees that decorate the main street "Sakura Street" is celebrating the 24 th time this year. Sakuragaoka addition to the gateway and cherry trees to produce a write-up of the cherry blossoms are installed lanterns, live music and drums, street dance show, liven up a variety of stalls are opened to the event.

25 days (gold) is a pre-Shibuya Infosutawa as the main venue, Japan thia & street dance by the University of Economics (12 8 pm ~) Visionary introduction of disaster rescue dogs and demonstration (12 hour 45 minutes to) according to the arts, such as. Such as Sakura-zaka stage kimono show by Hakubi Kyoto Kimono School in (Tobu Fuji Building on the stairs) (1 pm 19 ~). Such as club events by the sound and the video where you can enjoy from the children on the first floor parking Japan University of Economics (17 hour ~).

26 (Saturday), the Shibuya Infosutawa before in Ebisu drum (12:00 ~), (55 minutes to 12 o'clock) Kids dance, belly dance by Riesen Yoko (12 hour 55 minutes to), dance (13 o'clock by Rootz dance school 15 minutes to), such as, a variety of events is performed.

Honey in front of Shibuya Infosutawa in both days, which began Kuyoru and Gapao cafeteria, the booth opening of shops of gourmet set up a store in Sakuragaoka-cho, such as dish incense eaten "We of Sakuragaoka", was taken in Shibuya (Shibuya bees project) , homemade bread, the sale of such drinks. In addition, also carried out, such as raffle prizes hits.


Shibuya Sakuragaoka "Cherry Blossom Festival"
Yes date and time:
 2016年3月25日(金)12:00〜19:00
 2016年3月26日(土)12:00〜15:00
※ light-up period March 7 (Monday) to April 9 (Saturday)
Yes Venue: Infosutawa Square, Fuji building stairs on the Tobu, Japan University of Economics first floor parking lot, etc.
Yes Organizer: Shibuya Station Kyoei Board, Shibuya Sakuragaoka Kimono Festival Executive Committee
〇 Official:https://www.facebook.com/shibuyasakuragaoka/