March 25, 2006, "Yoshimoto ¡ç (infinity) Hall" was opened in Shibuya. There is a live of Yoshimoto unfolds in a day, seven days a week, looks to be the most popular spot. Yoshimoto is why I chose the land of Shibuya. Pre-opening to Isao Takenaka Yoshimoto Kogyo you've been through, I heard the reason.

(¢¨) here, in an interview in April 2006, such as business hours, will not participate is a change in the facility information. Detail is"Yoshimoto ¡ç hall"Please contact.

- "Yoshimoto ¡ç hall" is, do you what live is deployed?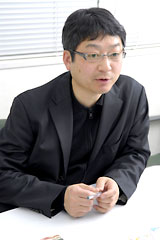 Seven days a week, I'll do a live 5 hours Buttoshi every day from 16 am to 21 pm. Shinjuku's different from the "Lumine the Yoshimoto" is, where viewing is "free". "Lumine the Yoshimoto" is positioned as a modern vaudeville hut, it is the purpose of to provide a laugh have received the money. On the other hand, "Yoshimoto ¡ç hall" is, in the first place, or "Yoshimoto Fandango TV" of SKY Perfect, I studios that do for you to record the video for delivery over the Internet and mobile phones. Live 5 hours to edit, I'm going to rapidly create content. So, as it were, it's also one of the production the audience of the reaction. Minute you free, you because here you can choose the audience. Young women and married couples, is attracting a lot of people, such as office workers, is that trying to make a program involving the city, it is the largest aim of which brought the Hall in Shibuya.
- What reason Shibuya chosen for you will do with.
Originally, I was using the studio of Ariake, but because there was supposed to be closed in March, I was looking for a venue to put 300 people position in the city center. We chose the Shibuya, because it was good theater feel of Koen-dori, which had been run previously. Is in the theater low ceiling, pillars I closed there is also the circumstances that were many, or "How do I do it I Manzai" "I also want to leave," or by virtue of its time of experience, a professional and more and more gathered a guy that wants to be, it's now an opportunity to make the NSC (Yoshimoto comprehensive performing arts academy) in Tokyo. Garage Sale and impulse came out from among them. That I had felt the strength of the "suction force" with the kind of town There is also a "Shibuya I hope."
- Does the visitors, we expect what generation?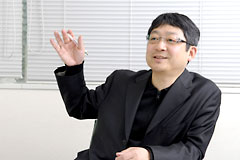 Well, to gather first in the studio, I think that young people will be at the center. But, we're going to gradually expand the age group, including foreigners. Recently, began to live in the day of the time zone in the "Lumine the Yoshimoto" of Shinjuku, also did so as to cast the veterans, I aim it is to attract a high-age customers. I because I think that it is sin of Yoshimoto that the had in the young people of things comedy. I want to spread rapidly. Kagetsu theater of Osaka, on weekdays at 12, Saturdays and Sundays are open from 10 o'clock, you laughing two thousand people close to the uncle and aunt every day is a "heehaw". Such town, is not to be found anywhere in the world. Because you can use Yoshimoto ¡ç hall for 24 hours, eventually we're going to provide a program tailored to each generation. Then because you need many new staff, we want to be recruiting. While also with a view neat measures. In Yoshimoto, You can either ultimately aims to entertainer, also producer, say any writer in director. Hopes and dreams to the young generation, and I've been I want to place to get a look at the reality.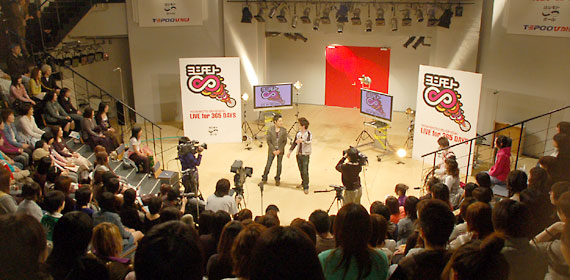 - Shibuya and the compatibility of the comedy is, probably not.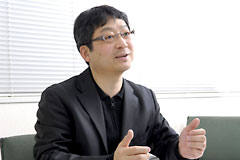 Do you pat Ya not. The Shibuya there is a cinema and theater, the place was a little hidden will or there is a strip. Shibuya is great in the fact that culture has taken root that watch something paying the money. Well, I of which it is free (laughs). Gathered more that kind of live entertainment, NY off-Broadway (
¢¨
) I wonder Yeah Once accustomed to like, I think. In Shibuya, I think and hope with confidence that are at the cutting edge of things "modern". Be in fashion, even in the design, and collide individuality top of each field is gathered, are every day, a new one is born. Comedy also, because I mon walk with the times, you must create a new thing. I have been doing downtown Even more than 20 years, and always has created a new one, I to I think. Audience, nor the store of people, companies, government is also, I want you to have a bosom (bosom) to accept the Fodder. In Shibuya.
- Do you think in Shibuya of now, the bosom is there?
I think that there is.
- The relationship of Takenaka's your own and Shibuya?
To 20 a few years ago with offices in Akasaka, I had come there from time to time on a business trip. That time is not only in the Tower Records Shibuya and Yokohama, it was well to come in between work. From I made to put serious about work in Tokyo in the relocation, we live in Omotesando. How can was wondering where do you Sumo, because the subway was convenient. Initially After walking in the jersey and sandals at the local mood, it was sometimes quite floating would be, turned back in Harajuku around (laughs). Does not get used to the Shibuya enough to still migration, it is fun to explore the record shop. Then, there is also something I like to have Okinawan restaurant and bar. While people looking at only the front of the station is Meiri cares in many, it has quite a space that can be leisurely Once good looking.
- Finally, please tell us that you want to Shibuya in the future.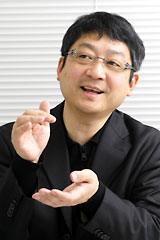 I hope more theater increases. Enjoy the theater and entertainment after work, if there is subsequent to the store full we can do for adults while talking your impressions, and also the sale of the store to the bonus is open until the last train of the time happy. It is a movie theater I want you to also enrich the Late Show. Then, I want you to aim the city that adults can enjoy with time to spare and not have the money. Do you say, "Choi Walther" (laughs), or create a shop that kind of generation is dealing with only "VAN", then we also have a shop of Harley now, or uncle who is running the crunchy and the bike .... I adult generations I want is to come the city to no errands.
After that, I, in Shibuya, I think that I want to grow in the "SHIBUYA" of the world. It is not lost on Broadway. I went to Hong Kong in the shooting of the movie, local is of young people I say that to buy clothes in Shibuya and Harajuku. I want to make that kind of "Shibuya fans" all over the world. It could be also utilized the Internet to it, "can only be purchased here" more than anything is not it important that we increase the things that "only be seen here."
And "off-Broadway" is
That of the theater, which is staged in a relatively small theater in Manhattan. As a guideline called the theater of less than 500 seats. Whereas there are many musical on Broadway, off-Broadway in the straight play, performance, one theater, dance, the works of various genres such as musicals have been staged. The what is long runs staged off-Broadway has "STOMP" and "Blue Man the Show". (From "Wikipedia")
¢£ profile
Isao Takenaka
1959 Osaka born. He joined Yoshimoto Kogyo in 1981. Thereafter, he served as a spokesperson, also editor-in-chief of the magazine "Monthly Yoshimoto," which reached the No. 300 in February this year concurrently. Involved in producing the NSC (Yoshimoto comprehensive performing arts academy), it serves as the interview, such as downtown and enrollment as a graduating class. Currently, concurrently serves as Director of the Center of Media Relations Center, and the public relations center. Including the "Nabi of love", "No problem", many of filmmaking is also in charge of.
Yoshimoto ¡ç hallTokyo, Shibuya-ku, Udagawa-cho, 31-2
Shibuya beam in Yoshimoto ¡ç hall
A 7-minute walk from JR Shibuya Station Other
Yoshimoto Kogyo is, free live hall, which opened on the first floor basement of Udagawacho of amusement facilities "BEAM (beam)". The audience number of 282 seats. 365 days a year, from 16 am to 21, from the same hall, which also serves as a studio, to broadcast the Sky PerfecTV TV Yoshimoto dedicated channel "Yoshimoto Fandango TV" public student program "Yoshimoto infinity" of. Program, in addition to the CS broadcast, web, pay also delivered on a mobile phone.
Track back
Trackback URL: https://www.shibuyabunka.com/trackback/keyperson/6