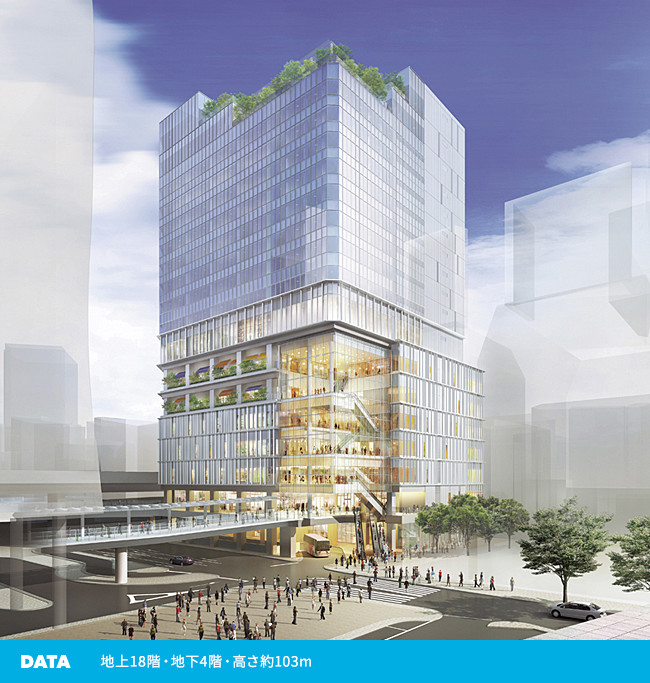 "Dogenosaka 1-chome Ekimae district" is the site of the "Tokyu Plaza Shibuya" opposite the West Exit of JR Shibuya Station and the adjacent area. The development vision is "Warm Japan, from Dogenzaka 1 - chome." It is about 103 meters high and construction of a complex of 18 stories above ground, with a warm hospitality, we will promote the fascinating city of Shibuya. A high-grade office is set up in the high-rise area, a commercial facility contributing to the bustle of the city in the middle and low-rise area, and a bus terminal including a departure point of the airport limousine bus are set up in part of the first floor. We also developed "Tourism Support Facilities" for visitors to and from home and abroad, to enhance the international competitiveness of the city, such as setting up a color as the "base for urban tourism" for holding the Tokyo Olympic Games, urban renewal It is expected as a base to play a part of.

On the first floor of the facility, we prepared a bus terminal including an airport limousine bus depot that enables direct access to the international airport. Improve "tourism support facility" for tourists and visitors in Japan and overseas to enhance the function as "urban tourist base". Inside the facility, we will provide services for tourists, such as "foreign currency exchange facility" and "tourist information facility", to enhance the international competitiveness of the city of Shibuya.

Small scale offices in the facility for entrepreneurs such as creative content industry and foreign companies entering Japan. Furthermore, the rooftop garden and eating and drinking establishment will be installed, promoting a creative idea in the space surrounded by green.

Between the commercial facilities of "Dogenosaka 1-chome Ekimae district" and JR Shibuya station, we provide wide and safe ground-based access and pedestrian deck and improve the convenience of movement. A smooth rolling flow line to the town of the west side of the station including Sakuragaoka area is formed. Also equipped with "Urban Core" which connects the ground part and the deck level with a vertical movement line, pedestrian priority environment that combines convenience and safety is prepared. Besides, there are no cargo handling space around the station where the commercial facility gathers, and on-the-road handling has been regarded as a regional issue before, but with this redevelopment, along with the construction of the "shopping and handling facilities" We will continue to develop and aim for the realization of community development centered on pedestrians, enhancing the comfort of walking and the migration of the city. Not only building simple buildings, but also the fundamental review and improvement of infrastructure such as "pedestrian network" can be said to be an attraction of large-scale redevelopment.