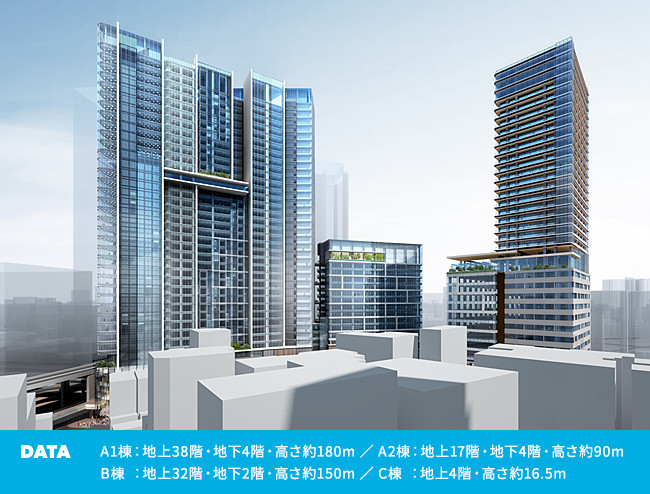 "Shibuya station Sakuragaokuchi district" across National Route 246 from Shibuya station west entrance. In collaboration with peripheral redevelopment, the longitudinal track "Urban Core" and pedestrian deck etc. are maintained, the underground road network connecting the parking lots is maintained, and traffic congestion and congestion at the conventional Shibuya station We solve the problem of the transportation network which the surroundings carries, and improve convenience and safety which also takes care of family and elderly people.
The development area of ​​"Shibuya station Sakuragaokuchi area" is about 2.6 hectares. It is about 180 m in height, a 37-story compound complex "A town" on the ground, about 150 m high, "B town block" with 32 stories above the ground and a height of about 16.5 m adjacent to it, "C block It consists of 3 buildings. The total floor space is approximately 260,000 square meters, and the main use is not only commercial and office buildings and houses, facilities to support the living of residents and foreign businessmen, international medical facilities , "Creation and content industry" to create collaboration of the "entrepreneur support facility" and other features.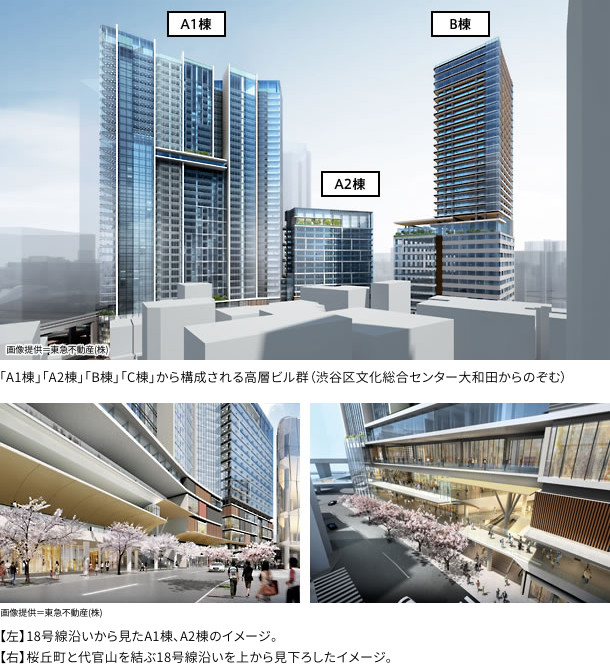 Maintaining Urban Core as a landmark of the entrance to the Sakuragaoka area. Furthermore, it connects the deck crossing national highway No. 246 north-south direction and east-west passage crossing overhead of JR line in the east-west direction, and enhances cooperation with Shibuya station west entrance and SHIBUYA STREAM (former Shibuya station southern district). Eliminate regional division by trunk roads, railroads, etc., construct migration lines with stations and surrounding urban areas, and improve convenience, comfort and safety of pedestrians. Also, a wide pedestrian deck (transverse bridge) is placed above the newly developed urban planned road aid No. 18 to facilitate access between the hillside of the Sakuragaoka district with a difference in height and Shibuya station. In particular, the convenience of movement to "Daikanyama / Ebisu area" will be further enhanced.

To make it easier for foreigners to live their lives with peace of mind, international living support such as international medical facilities, serviced apartments, child rearing support facilities, etc. that correspond to the multilingual will be prepared and the problem of the living environment shortage around Shibuya station now While resolving, we intend to strengthen international competitiveness.

Establish "entrepreneur support facility" that cultivates venture from Shibuya with state-of-the-art technology and knowledge possessed by university institutions and creative / content industry in industry-academia collaboration. From here we will create a highly competitive creative content industry.