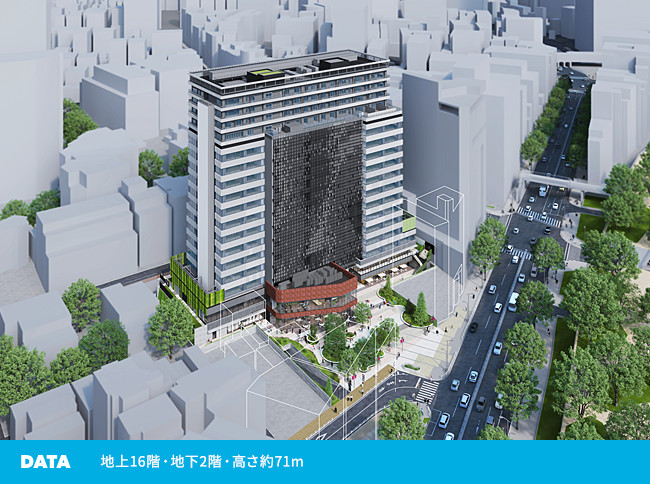 " SHIBUYA CAST " (Old Shibuya Miyashita Town Plan) is a development project for the site of the "Metropolitan Miyashita-cho Apartment" that was at the confluence of Meiji Dori and Cat Street. Urban regeneration step-up project (Shibuya area) "aiming at the effective utilization of the same-area neighborhood and the role of an initiator of the surrounding town development by the relocation of the metropolitan housing etc. owned by Tokyo Metropolitan Government Has been developed as the first project.
The concept of SHIBUYA CAST is "Creator's Platform that transmits the city of creative industry" Shibuya "to the world. The area where Meiji Dori and Cat Street, Shibuya and Harajuku culture merge is similar to the tide that warm current and cold current collide. A lot of plankton occurs at the sea boundary, fish that eat it gather, and it becomes a good fishing ground. The same area where two cultures collide with each other is also expected to be a creative base where many creators gather and actively participate in exchange and activities.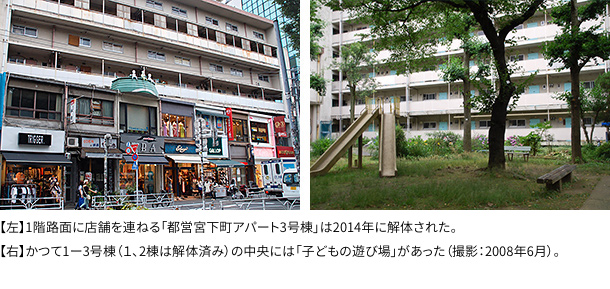 Ahead of the start of the opening on April 28, spring of this spring (2017), the name of the facility of "Shibuya Miyashita Town Plan" was decided as " SHIBUYA CAST (SHIBUYA CAST.)" Last autumn and its plan details were made clear. It is about 71 m in height, 16 floors above the ground, two-storey complex complex. Shops and share offices are located in the low-rise area, offices and rental housing are located in the high-rise area, combining a "live" and a "working" place, we will propose a new lifestyle that seems like Shibuya. The facility name "cast" having meaning such as "casting (casting eyes)" is gathered by people with diverse talents, each individual played an individual role like an actor who was given a cast By engaging in collaboration, we can add a will to create a new culture and talent. In addition, a large square is placed at the entrance of the Cat Street side, and it is also expected as a function to attract the flow of people between Shibuya and Harajuku.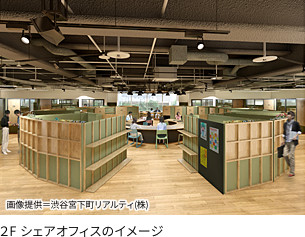 The composition of each floor is 1 / 2F "Share Office & Cafe". "Co-lab" that develops a share office at six locations in Tokyo is in residence. Freelance and creators of business people gather, exchange and cooperate, and advance open innovation. The 1F also has a cafe space, which is a shared space for shared guests as well as shared office members. GF (1F along Meiji Dori, equivalent to B1F from Moto-bashi Park side) is "Plaza", "Multipurpose space". In addition to providing a place for relaxation to people gathering at this facility, the open space outside the building creates bustle of the city by holding various events.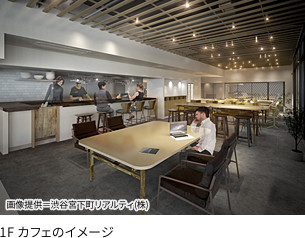 Multipurpose space is a floor facing the square, and it will be used for exhibitions, galleries, seminars, talk shows, receptions and other uses. GF - 1F is a "store". In addition to the "small supermarket" developed by Tokyu Store, 4 stores are open for coloring everyday life such as restaurants and fashion general shops. Particularly in this area, supermarket has not existed so far, so it can be said that the goodness of shopping is good news for people living in the area as well as residents of the facility.

2 - 12 F is the "office". As the office floor tenant, the head office relocation of the "Bay Lease Group" based in Shibuya has been decided. In addition to journal standards, fashion brands such as Jena and Edifice, the company is also known as one of the growing companies representing Shibuya, with a number of eateries such as JS Burgers Cafe and Gon Tranche Rie. Along with "co-lab", the relocation of the company can be said to be a main cast indispensable for "creator's creation activity base" advocated by SHIBUYA CAST . Besides that, creative enterprises such as IT system, design, apparel are scheduled to move in. 13 - 16 F is a "co - residential building". From 1R to 3LDK type from 80 rental houses, you can see the city of Shibuya. In 13 F, in addition to the dedicated living space, a shared space such as a kitchen and a living dining is established, and support of community making between residents is supported. In addition, 14F is a "service apartment", it will be a short-term mid-term stay such as businessmen and creators in Japan and abroad visiting Shibuya.
Opening of SHIBUYA CAST is April 28, 2017 just before GW. As the opening of redevelopment project, I will be the first. In advance of the 2020 Olympics, it will play a major role as a hub to accelerate the flow of people between Shibuya and Harajuku.